Besides having fantastic cultural sights and modern entertainment establishments, Bremen is also rich with parks. Be certain; any foreigner will be astounded with the beauty of Botanika, Buergerpark, Wallanlagen Park, Knoops Park, Rhododendronpark Bremen, Stadwalds, Sportparksee, and Nihon Niwa. This city amazes with its unique blending of cultural wealth and innovative establishments. Being the second most densely populated city in the whole Northern part of Germany, Bremen is sure to make your guests yearn to come for more. Choosing Bremen as the destination to organize a grand tour for a group of foreigners is a grandiose decision. All you need now is to send us a quote and fill our all requirements and we will proceed immediately!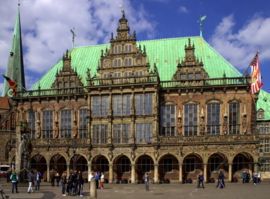 Advantages of using a chauffeured coach service
So, if you have already schemed the tour, it's high time to think about the safe transportation of your tourists in Bremen. 8Rental can become the source to rent a bus with a driver in Bremen on really beneficial conditions. You, just as any other client hiring a vehicle from this car supplier, will be provided with some advantages. Check below which are they!
Well-Equipped and Spacious or Compact yet Comfortable - our coaches
Planning to welcome around sixty-five travelers in Bremen? Then you need to book a capacious and comfortable coach. 8Rental suggests scheduling Mercedes Tourismo. This model is sure to satisfy all the comfort needs your guests may have. It looks stunningly impressive with its modern exterior design and luxury interior. There are such specifications equipped in this bus as a toilet, a mini kitchen with a coffee machine and a fridge, as well as fantastically comfortable seats all in aircraft style for extra posture support, tinted windows, air conditioning central heating, and so forth. Depending on which variant of Mercedes Tourismo you choose - standard or VIP, it will be equipped with respective features. Just select this ample and affordable model to hire a chauffeured bus in Bremen! Be sure, neither you nor your guests will be disappointed with this selection!
Another model of a coach 8Rental can offer you for renting is Mercedes Sprinter. This one is significantly smaller than the above-described one, yet is highly comfortable, without any doubt. It is designed to drive around two dozens of passengers in complete comfort and safety. Hence, in case you intend to have a tour for a small group of tourists, a Mercedes Sprinter should become your selection. Just choose this vehicle to hire a chauffeur-driven coach in Bremen and see how comfortable it feels inside it. The same as Tourismo, Mercedes Sprinter, comes in standard and VIP options. Beside tinted windows, carpeted floors, reading light and comfy seats, you will find air conditioning, premium audio system, central heating and some other specs for your passengers' comfortable driving in the city.

Drivers, You Can Rely Your Safety On
For driving a bus, besides the license, the driver should have a great sense of responsibility and years of experience. These are all qualifies specialists with the best recommendations! Hence, there is no need to worry about your and your tourists' safety. Additionally, we have different language speaking drivers. Some of them master English, others Spanish, Italian, Russian and other languages. All of them, of course, are naive German-speaking chauffeurs. And all of them are familiar with the city's roads to drive any direction necessary with ease. Hire a coach with a driver in Bremen to get ensured in it yourself!
Some extra options
It will be a great decision to book a vehicle and tell the driver meet your travelers right at the airport if they are arriving in Bremen altogether. Otherwise, we can send the hired bus with driver straightly to the hotel. You choose the pickup address. 8Rental will be in charge of the fuel necessary for implementing the entire tour. Additionally, all the fees and taxes are on us.