Coach hire in Bremen, Rent a bus
Today, coach hire in Bremen is an actual, popular service among business people, who are used to value their time, as well as among tourists and families. "8Rental" Company is a guarantee of quality and safety of your trip. You pay only for bus rental, and our driver is already waiting for you behind the wheel!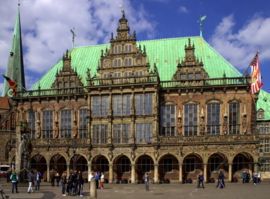 Bremen Market Square is considered one of the most beautiful in Europe. Here is the XV century Bremen City Hall, Schütting (place of the merchant guild meetings) and a number of old houses. In the center of the square is a Bremen Roland statue-the symbol of the city of freedom. The pride of Bremen is Bremen Cathedral, which was erected in the XI century. Nearby there is another symbol of the city-The Statue of Town Musicians of Bremen.
Schnoor Bremen is a preserved piece of the medieval quarter of the city. Once a district of fishermen and craftsmen, but today it's a place of boutiques, pubs in the old style, restaurants, cafes and souvenir shops. Another attraction-Böttcherstraße street, decorated in art deco style, the place where the museum Paula Modersohn-Becker is located.
Inside the old city some shaft mills survived, which functioned until 1950. Today, they are an inherent part of the Bremen old city fortifications, whose walls were polished and refurbished
in 1802.
Rent a bus in Bremen and rely on professional drivers from 8Rental Company!
Coach hire services in Bremen or Bremen Airport
Bus rental service in Bremen by 8Rental

8Rental.com is a major charter bus rental company ensuring bus hire and charter coach rentals in Bremen and Germany. High-quality and safe coach hire in Bremen – this is "8Rental" company, whose mission is to connect A point to B point with the maximum convenience for the customer.
Bus charter rental service at Bremen Airport
We ensure transfers to/ from Bremen Hauptbahnhof and Bremen Airport shuttle services.
How to receive a quote and make reservation: Coach hire in Bremen from 8Rental.com
Our CS team is waiting for your inquiries on This email address is being protected from spambots. You need JavaScript enabled to view it.!