Coach hire in Dortmund, Rent a bus with driver
Dortmund is among the most visited cities in entire Europe. Every year, it welcomes hundreds of thousands of people from around the globe due to its picturesque architecture, amazingly tasty beer and a series of festivals. Perhaps the most popular festivals organized in Dortmund are Westfalenhallen, Hansemarkt, Juicy Beats, Oktoberfest Dortmund Wischlingen and others. And if you plan to take part in any of them with all of your friends, it's definitely more expedient to rent a bus with driver in Dortmund. This way you will greatly save on the price of transport. Additionally, all of you can taste the so cool and tasty beer of Dortmund without worrying about getting to your hotels safe and sound.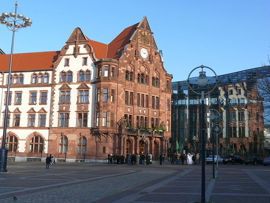 8Rental as Your Selection
So, you have already packed your things and got tickets to Dortmund? Just get a quote from 8Rental and fill out all the necessary points to hire a chauffeured coach in Dortmund beforehand. Be met right at the airport or the railway station with your entire group of travelers as 8Rental expects you!
Choosing 8Rental as your car rental service in Dortmund, you are making the right decision. You can justify your choice with skillful drivers, amazing coaches, affordable prices and a line of freebies. We demonstrate an individual approach to every client, exceed all their expectations and thus build reciprocally beneficial relationships with our clientele.
When you book a bus from our car supplier, you get free-of-charge fuel for your entire route. Additionally, all taxes and fees that may occur during the order, are under our responsibility.
The Perfect Coach for You
Need a huge bus in Dortmund? No need to search further as the best equipped capacious bus is offered right here, at 8Rental. Choose Mercedes Tourismo to accommodate over sixty passengers in enviable comfort. This vehicle features an impressive series of amenities including curtained windows, carpeted floor, a hot drinks facility, air conditioning, central heating (the VIP model comes with heated seats), a toilet, a fridge, air suspension, etc. Impressed? Just imagine all this inside a big, yet simply marvelous looking bus! With this coach, you will turn your traveling experience in Dortmund into a miracle!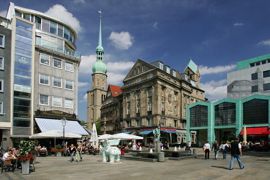 For smaller groups composed of up to two dozens of people, 8Rental can offer a Mercedes Sprinter standard or VIP model. This vehicle has excellent specifications so that you go long distances without any hustle and bustle. Hire a chauffeur-driven coach in Dortmund now to get a reliable means of personal transport in this German city.
Well-Trained Drivers at Your Disposal
For driving a coach, the chauffeur should have a number of qualities including a special driving license, long years of experience, a sense of responsibility and punctuality. Our chauffeurs are just that type of specialists to freely rely on. Besides, they can drive you any direction easily. They are well aware of the city's roads and need no GPS or map, unlike tourists who are new to Dortmund.
Other good news for you: 8Rental has made the communication between you and our drivers possible and pleasant. We have employed drivers speaking German, Italian, English and other languages. So, you can book a car and rent the chauffeur that speaks your language.
Dortmund After Festival
Has your festival in Dortmund come to an end yet you still have some time left to explore the city? After hiring a bus from 8Rental you can tell your personal chauffeur to drive all of you to the city's most popular sights. Be sure, you won't regret visiting the Florial Tower, Reinoldikirche, Hohensyburg Castle, Propsteikirche, Das Alte Hafenamt. Anyway, if you think the best way of learning a foreign city's history is visiting its museums, Dortmund will welcome you with German Football Museum, Westfalian Museum of Industry, Binarium, Hoesch Museum, HMKV Hartware MedienKunstVerein, Museum of Natural History.