Coach hire in Dortmund, Rent a bus
Coach hire in Dortmund from "8Rental" company is a great solution for those who want to emphasize their status, values the safety and convenience of each trip. Clean, well-maintained and serviceable vehicles, friendly, delicate and experienced drivers-these things make bus rental in Dortmund from 8Rental.com number 1 choice in Germany!
The main attractions of Dortmund are concentrated within a ring of streets: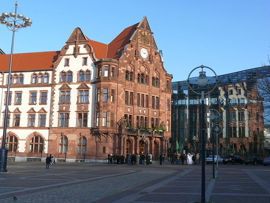 Westfalenpark, where Deutsche Rosarium and Tower Florianturm are located, is a vast green area in the south of Dortmund. On the tower, height of 212 m, are constructed two viewing platforms and a revolving restaurant. Westfalenhallen is the largest sports hall in Europe. It accommodates up to 23 thousand spectators. It consists of a main hall and six additional, indoor ice rink and athletics hall.
St. Reinold's Church is the symbol and the main church of Dortmund, built in the 13th century in honor of the city's patron saint. It combines different architectural styles. It was completely destroyed during World War II, rebuilt in 1950-1956. At the top of the bell tower, height of 104 meters, is set a metal weather vane in the form of an eagle-a stamped figure of Dortmund.
Rent a bus in Dortmund with us and get unforgettable travel experience!
Bus rental services in Dortmund or Dortmund Airport
Coach hire service in Dortmund by 8Rental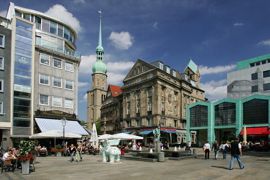 8Rental.com is major charter bus rental company providing coach hire and charter bus rental services in Dortmund and Germany. As you can see, we are ready to personally solve passenger
transportation needs and to provide our customers with economy or VIP buses with highly skilled drivers!
Charter bus rental service at Dortmund Airport
We provide transfers to/ from Dortmund Hauptbahnhof and Dortmund Airport shuttle services.
How to get a preliminary trip cost and reserve your bus: Coach hire in Dortmund "8Rental.com"
Our contact: This email address is being protected from spambots. You need JavaScript enabled to view it. or simply fill out the quick quote form. Thank you!