8Rental aims to give a superb chauffeured bus hire in Sheffield at extraordinarily permissible & satisfying price. Fundamental company's goal is to provide comfy & satisfied passenger transportation on Sheffield roads & South Yorkshire area.
Comfortable ride, excellence, comity- peak advantages of hiring 8Rental shuttle premium buses driven by well-skilled chauffeurs!
Bus hire with driver, South Yorkshire: comfortable bus transportation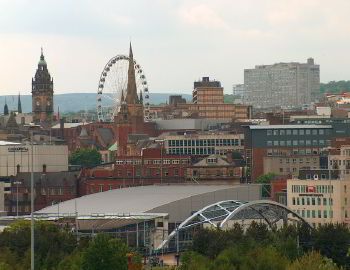 8Rental's team contains highly-organized drivers, well acquainted with Sheffield locations & routes. If you book a chauffeured bus services with 8Rental, you get undoubtedly utmost England's charter bus supplier!
All-in corresponding to customer's needs offer
Bidding comprises:
Sheffield's adept driver
sizable cozy bus
fuel costs
additional charges on Tolls & Highways
Value Added Tax
Get initial bidding then order easily your travel bus
Hire a coach in Sheffield with the driver now!
To hire & book a coach with the driver all you need is to follow the steps given below:
Send your inquiry, filling out the Enquiry Form
Get perfectly acceptable bid
Confirm chauffeured bus booking paying the indicated deposit amount
Sheffield chauffeured transportation: bus attributes
General bus characteristic:
Floor Mats
welcoming, spacious cabin
warm material trim
Ergonomically designed interior
soft materials seats
integrated reading lamps
Rent a coach with a driver, Sheffield: driving license
South Yorkshire competent chauffeurs are well trained, licensed & certified.
Hire a coach with a driver in Sheffield

Sheffield was founded in 12th century by William de Lovetot. Local population counts 570 thousand inhabitants. Arctic Monkeys, Def Leppard rock bands represent Sheffield at worldwide music stage. Sheffield Crucible Theatre hosts World Snooker Championship. Sister cities: Bochum, Germany & Donetsk, Ukraine. Worth-Seeing attractions: Kelham Island Museum, Norfolk Heritage Park, Motorpoint Arena, Peace Gardens. With over 5 thousand species of fauna, you have to take a trip up to the Botanical Gardens. Hire a chauffeured bus and take a walk along Victoria Quays, large canal basin. 8Rental Meet & Greet service is available for Robin Hood Airport Doncaster Sheffield. Avoid the hassle and let 8Rental.com be the solution to your bus rental needs.
Options for hiring a chauffeured bus in Sheffield
Budget shuttle bus transportation
Cheap coach hire in Sheffield with chauffeur - economy, reliable, right travel option!
Cheap rental: bus characteristic & conditions:
intelligently well-regulated inside features
comfortable ergonomic headrests
AM/FM, CD/MP3 Sound System
Wide touring windows
bright interior
carpet in passenger compartment
Rent a luxury chauffeured coach, South Yorkshire area:
Face-to-face meeting?
Hire a well-built subtle elegance Mercedes Travego!
The highly-attentive respectful driver will collect your staff from Doncaster Sheffield Airport & drive to the required drop off location.
Business chauffeured general bus description:
Leather interior finish
supreme comfy plush seats
velour upholstery
significant sizeable restroom
top-of-the-range bus model