Chauffeur service in Ghent, Rent a car with driver
To rent a luxury car on the most beneficial basis, get a quote from 8Rental and fill it out. Your order will proceed immediately!
Ghent is considered as the most amazing city in entire Belgium. Being a home for flourishing flower export trade, this city appears so colorful and redolent! And if you are here for the first time, you simply can't but fall in love with Ghent. However, don't get too excited till you haven't got a reliable means of transportation in this foreign city. 8Rental suggests hiring fabulous cars in excellent condition, and skillful drivers that won't let you down. Just hire a car with driver in Ghent from 8Rental and feel what it means to drive in the city in complete comfort!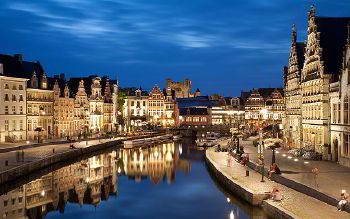 Choose Luxury Driving
8Rental is one of the most remarkable car rental services in entire Europe. It offers a series of amenities every client expects to get from a really trustworthy chauffeured service. So, be one of them by booking a car right away!
Choosing 8Rental as your destination to book a car on most profitable conditions, you make the right decision. Get a luxury transportation by booking a BMW 7, a Mercedes S class car or a lux Audi A8. All these and some other similar car models are first class cars that guarantee amazing driving. The cars have a line of significant specs including leather upholstery, advanced audio system, dual-zone climate control, air conditioning, premium safety system, etc. These cars look simply gorgeous and are sure to catch the eye of every passerby in Ghent. Hire a chauffeured car in Ghent now and have the car meet you right at the airport. 8Rental is ready to send its cars to the airport to welcome its clients from abroad and deliver them to their destinations!
Rely Your Driving in Ghent on Skillful Chauffeurs
8Rental is a very meticulous service when it comes to employing drivers. The safety of our clients, as well as their satisfaction level, are immensely important to us. Hence, we make sure each and every driver applying for a job to our car rental service meets all the criteria we demand. These criteria include a driving license, impressive experience in the field of passenger transportation, a high sense of responsibility, knowledge in languages. By renting a car at 8Rental, our chauffeurs have the chance to choose the language their driver is to master. Our chauffeurs speak not only French and German but also English, Russian, Italian and a couple of other languages. So, rent a chauffeur driven car in Ghent and entrust your transportation to an acknowledged and credible driver. By the way, our drivers are well aware of all roads in Ghent and can easily take the right direction once you name the address. Be calm, you won't ever get lost.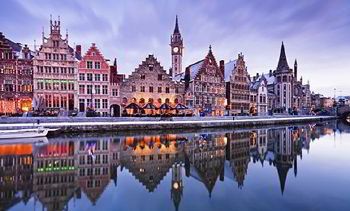 Freebies Especially for You
8Rental is known as a generous service, which is ready to provide its clients with some definitely useful freebies. Regardless the length of your tour along Ghent's roads, the necessary fuel will be provided entirely for free! So will be the insurance. You, as a client, won't be in charge of any expenses an accident may cause. 8Rental is also ready to be in charge of any fees and taxes that may occur on the way.
Picturesque Ghent
Ghent is a fantastic destination for all travelers who appreciate the blend of inspiring architecture and amazing nature. There are fascinating Gothic sites including the Castle of the Counts and dramatic St. Bavo's Cathedral, impressive buildings in early Flemish style, and countless other important sights you should by all means see.
This city simply enchants with its magnetic beauty and the number of fantastic tourist sights! Visiting once, you will fall in love with Ghent and dream about returning to the city again.