Hire a chauffeured car in Norwich to feel the pleasure of being transported in complete safety, comfortability, and luxury. 8Rental is at your disposal now and ever!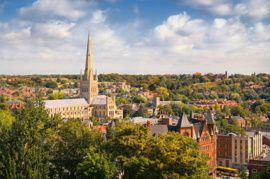 Everyone deserves traveling in comfortable, safe and reliable conditions. And if your next destination this time is Norwich, you are welcome to rent a car with driver in Norwich from one of the most dependable car rental services 8Rental. Any road and any destination will appear closer to reach, while the time spent on the way will be utmost pleasant and productive. If you are in Norwich on business, you can save your time by planning a meeting, studying your papers or merely having a nap (your time for sleep must be limited) right inside a luxury car while a skillful driver takes you to your destination.
Benefits of Selecting 8Rental
The small, impressive array of cars offered by 8Rental is worth selecting this car rental service particularly. There are several other aspects you will benefit from when booking a car from this car supplier
Find the Best Car Catered to Your Needs
8Rental is the car rental service that offers a series of amazing vehicles to a client's choice. Whether you need a standard class car that has all essential comfort amenities and is provided at the lowest price or a luxury one with the most advanced entertainment specifications and mind-blowing appearance, 8Rental is ready to satisfy your demands.
Standard class cars presented to clients' selection at 8Rental chauffeured vehicle supplier include Skoda Octavia, Ford Focus, Volkswagen Passat, and a few other similar models. They are quite large and highly comfortable packed with every basic specification you may expect a standard class car to have.
Business travelers are welcome to have a look at the range of Business class cars before they hire a chauffeur-driven car in Norwich. With ideal technical characteristics, as well as such passenger entertaining amenities as an in-built audio system, dual-zone climate control, heated seats, etc., business class cars are a perfect choice for every business traveler in Norwich. 8Rental car rental service offers such business class cars as Mercedes E Class, BMW 5 series, Audi A6, and a few other similar models.

Nevertheless, if you are used to traveling in luxury and opulence, 8Rental has several fantastic cars you can hire on an affordable basis. With the latest innovations and the most impressive looks, these cars guarantee unforgettable transportation for you and your essential VIP guests. Don't deprive yourself of the pleasure to sit back comfortably in a gorgeous Audi A8, Mercedes S class, or BMW 7 first-class car while traveling along Norwich's marvelous streets. Hiring a chauffeured vehicle from 8Rental is by all means beneficial.
Drivers you can rely on
Seasoned and licensed drivers 8Rental has employed readily to provide you with fast and secure transportation all around Norwich. Each of these drivers has years of experience in passenger transportation and knows well how to make driving in a foreign city as enjoyable as possible. They speak different languages, including as English, so German, Russian, French, and others. Accordingly, there is absolutely no obligation for you to speak English if you feel awkward or don't want to. Instead, mention the language you would like your hired driver master beforehand.
Placing an order before heading to Norwich is highly beneficial. Landing in Norwich, you can already have your ordered car and driver meet you at Norwich Airport. No need to take a taxi to your hotel. Your driver can be at your full disposal as long as you are in this city if you wish so. Additionally, no matter what direction you want the driver you book to take, the fuel for the entire transportation is provided by 8Rental.
What You Shouldn't Miss in Norwich
Whether you are in Norwich on business or for a vacation, there are sights you merely ought to visit. Find a couple of hours for yourself in your busy schedule and visit the city's gleaming white Cathedral built in the beginning of the 11th century and striking with its 315-foot long spire, the center of historic Norwich Tombland, the Castle Museum and Art Gallery, the Dragon Hall, the Norfolk Broads and many other mind-blowing destinations!