Bremen is a highly accessible city in Germany and beyond its borders. Most of all, it attracts business people intending to invest in or deal with companies in space, science, and high-tech industries. And if you, too, are heading to Bremen on business, you need a reliable personal means of transportation. 8Rental can become your "harbor" as it offers a series of business cars on the most favorable conditions you could ever find in entire Europe. We are the service you can feel entirely safe while dealing with us. Choose 8Rental and have all your car rental expectations exceeded! Rent a car with driver in Bremen now, as there is no point to delaying your order.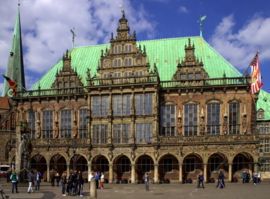 The Car You Deserve
8Rental has gathered a fleet of most different cars offered at different price ranges. Book a Mercedes E class car and let all your possible business partners stare with admiration. It is the car you feel like a president driving in. Hire a chauffeured car in Bremen and choose any Mercedes E class car! The vehicle looks splendid, has a luxury leather interior, is equipped with all possible comfort amenities involving comfortable and heated car seats, audio system, air conditioning, cruise control, central heating, and others. To your wish (and at extra charge, of course), we can equip the car with a TV and a minibar. Other gorgeous business class cars offered for hiring at 8Rental, are Audi A6 and A8, BMW 5 and BMW 7.
Special Offers
Would you like the car you book to approach you outside your hotel? Or perhaps you need to be met right at the Bremen Airport or the railway station? Regardless of your pickup address, you can have our car with driver any time of the day and night. 8Rental is attentive toward all its constant clients, just as to new ones. We shall provide you with free-of-charge fuel irrespective of the length of your tour. We are here, available 24/7 for all your orders, questions, and even remarks!

Meet our Accomplished Drivers
8Rental cooperates exceptional with seasoned and professional drivers who showcase a responsible approach to every order. Booking a car from 8Rental and entrusting your transportation in Bremen to one of our drivers, you will enjoy every minute on the roads. Our qualified and licensed drivers will take any direction so quickly you may think they know all the routes and destinations in Bremen by heart! Our clients can feel no inconvenience sitting in the cabin of the car they book from 8Rental!
Bremen for Appreciators of German Culture
Bremen is the unique place where innovation, sophistication, and beauty meet to become a harmonious unity. Once stepping into the city, you can't but feel the life force that magnetizes, astounds and leaves an aftertaste after leaving for home. Explore the narrow old streets on foot, yet travel to far attraction places by car. Hire a chauffeur-driven vehicle in Bremen to make you're moving from one sight to another a mere pleasure! Bremen can become a fairy tale for you! Don't miss your chance to visit Museen Boettcherstrasse, the capturing science museum Universum Bremen, Bremen Gaeschichtenhaus, Kunsthalle Bremen. Other places of interest are Historische Altstadt, Marktplatz, Schnoor Viertel, Bottcherstrasse, Knoops Park, Theaterschiff, Botanika, Bremen Town Hall, Pressehaus - Weser - Kurier, Neues Rathaus and a series of other wonders! Bremen is also known for its good living, stylish, and somewhat earthy population. Just walking along the city's roads will become a great experience to cherish the memories of after leaving Bremen.