Dortmund welcomes its visitors with cool delicious beer and much more. The best destinations for those who are eager to taste the so-popular Dortmund beer are Lokales im Kreuzviertel, Pamukkale Grill, Die Kluh Genusswelten Im Westfalentower, etc. Regarding the sights of great historical and cultural importance, Dortmund is a highly rich city. Dortmund beer is known all over Germany and beyond its borders. People from around the world head to this city every year in search of new impressions, historical sights, and, of course, a glass of cool Dortmund beer! If you have already chosen Dortmund as your next destination, then you must hire a car with driver in Dortmund and enjoy a fabulous tour. Just us a quote and book a preferred type of car with a driver and just wait for the time of arrival in the city!
So, upon your arrival here and, you will definitely be surprised by the means of transportation you hired by our company. 8Rental offers is always providing our customers with the best services for car and chauffeur hire services. We have served in the industry of passenger transportation long enough to understand what customers expect to get by applying to a car rental service. A fantastic fleet of most diverse vehicles, a staff of professional drivers, a team of responsible CS operators, and a line of freebies including free-of-charge fuel included in the offer. All these are guaranteed to each and every client who decides to book a vehicle from 8Rental! And now it's your turn to enjoy royal driving in Dortmund!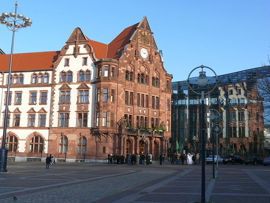 Cars with Premium Specifications and Dazzling Look
Considering these factors and your budget and comfort level, you can hire a perfect chauffeur-driven car in Dortmund from 8Rental. We have enlarged our fleet with automobiles by world-leading brands such as BMW, Toyota, Mercedes, Skoda, Audi, and others. All the cars are in excellent condition and won't ever let you down in the middle of the road. They are highly equipped. You can expect to enjoy extremely convenient seats with armrests, air conditioning, premium safety system with airbags, etc. when hiring any car model from 8Rental. You will find the respective amenities that will correspond to a specific class of the car. For instance, the standard class cars are equipped with amenities of primary comfort necessity, business, and first class cars have cruise controls, dual-zone climate controls, heated seats, and mirrors, as well as fine leather interiors and luxury exteriors.
If there are any additional requirements concerning either the car you book or the chauffeur you rent, please, feel free to let us know. We can equip the car with a minibar, TV or any other facility you would like to enjoy. This will cost additional charge. Being online 24/7, 8Rental is ready to accept and proceed your order whenever convenient for you.
Acknowledged Drivers
What can categorize a driver as a professional? Perhaps a driving license? Or maybe experience is more important? Some people may value the sense of punctuality as more essential. 8Rental's drivers feature all these characteristics. Before employing a driver, 8Rental makes sure they meet all the above-mentioned requirements. Additionally, these expert drivers know the city's roads well enough to take any necessary direction once they hear the address. And if you don't speak German, no need to worry. You can hire the chauffeur that speaks your language!
Impressive Pricing
8Rental has an aim to build long-term relationships with its clients. Hence, we are determined to provide everything our clients may expect to get by booking a car from our car supplier in Europe. That's why our pricing system may seem so affordable for you as compared with those of other services in the industry.
Rent a chauffeured car in Dortmund now to have it welcome you right at the airport, railway station or any other destinations convenient for you!