Cartagena is one of the top tourist destinations in Spain, and by coming there in a group of people, friends or families, it is crucial to find a way to move around. The main attractions such as the Municipal Archeology Museum, the Calle Mayor, and the Bateria De Castillitos are worth visiting.
We can prove that hiring a minibus would be the best thing for that. However, by chartering a driver would add a lot of comfort and flexibility to the service and by taking into account that many of you'll not be allowed to drive a vehicle with more than seven seats that would also be very practical. Send us a quote and state all the details about the minivan you think may need for your trip and we will proceed your order in no time!
How to make a service reservation
You can reserve the provided facilities by doing the following:
Get in touch and talk to our firm's representative.
List the range of requirements and ask all the questions that concern you.
Specify the dates.
Receive our respond and possible suggestions of what could be done for you.
Make the payment.
Get confirmation.
If you get in touch with us, it is 100 percent certain that you'll be provided with the highest quality service in Cartagena. We have been specializing in providing these services for many years leaving thousands of glad customers. Let you enjoy the city, be driven by safety and comfort and leave the most pleasant memories of Cartagena.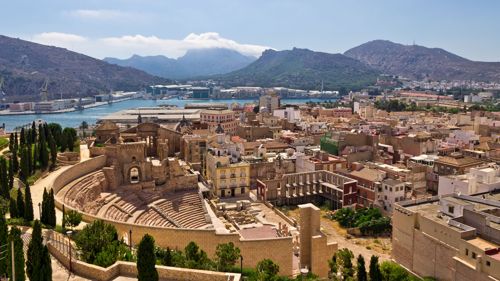 What are the conveniences of using rental services during a trip
Renting a van is a very convenient thing to do. By splitting the cost of rental and additional charge that comes for driver's services the total cost for each traveler would be an equivalent of what you will pay for public transport anyway. Your group can move around the city to its main attractions with ease and comfort. You shall not become responsible for any road accident or damages made to the car. Our customers will not be worried about traffic, finding roots and locations of attractions, getting parking tickets and speeding penalties. Therefore, this is the most attractive and provident way of traveling for a group of tourists.
Transfer in Cartagena.
By coming to the city, your stay will usually last from one to several days. Transfers from the airport or a train station are a common thing, particularly for several individuals. There will not be additional costs for that as that will be a part of the daily rental charge. Your driver will pick you up after arrival, and you're not facing complex traffic that generally exists in such places. You will be taken to your hotel, a rented house or flat or straight away to the attractions if this is a one day vacation.

A range of vans on offer.
Most of our clients will need a vehicle with ten seats. However, if you need a higher capacity van that will be provided for you without hesitations. The range of minibusses is presented with the most common manufactures, and if the VIP vans are needed, that will be offered on your request. All the vehicles are equipped with the following:
Lightning systems
Air conditioner
Stereo systems
TVs and DVD systems
Safety features
Traveling in a van in Cartagena will be more enjoyable if our professional driver is behind the wheel
The city is pretty big hence heavy traffic during rush hours is a common thing there. The driver will avoid traffic areas, will help you top plan the journeys and stops and will optimize the time traveling. He will take care of parking, will wait for you for as long as it is needed and will be available 24 hours a day. So even if it's decided to party late at night, there should not be any worries that you're not getting back to the place of your stay safe and on time. The driver will also make your suggestions in which order to visit. He will give you proper advice on where to sit for lunch and what else to see locally. Most of our employees are capable of speaking and understanding English or some other languages. That will make your journeys around the city and its neighboring towns very pleasant.