Minibus hire in Dortmund, Van hire with driver
Are you heading to Dortmund for business purposes? Or perhaps you just want to taste the real Dortmund beer? In all cases regardless your intentions, the number of people your group is composed of, 8Rental has a fantastic offer for you! Rent a chauffeur driven minivan in Dortmund and find out what it means to deal with a really trustworthy chauffeur service. 8Rental has been operating in the industry of passenger transportation in major European countries including Germany. During all these years of faithful servicing to its clients, 8Rental has managed to gain the trust of thousands of customers. Today we have a line of loyal customers who turn for our services whenever they are in Dortmund or any other European city. Be one of them to enjoy safe and comfortable driving in Dortmund!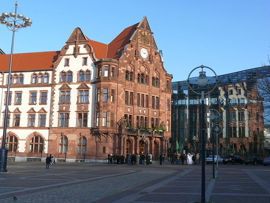 Get the Minivan You Need
When hiring a minivan, it's advisable to first count on the number of passengers that will be driving in the vehicle. Another aspect to base your choice on is the purpose of your travel. In case you are in Dortmund on business, 8Rental advises selecting Mercedes V class. Hire this van with driver in Dortmund if there are only up to eight colleagues heading to Dortmund on business. Every minute spent inside this vehicle will be utmost comfortable, pleasant and even productive. The minibus is equipped with everything neded for your entire group to work while getting to your destination. There is a premium audio CD/DVD system, reading lights, tinted windows, air conditioning, central heating and other features you will take for granted. You can also order extra amenities in the car on additional cost.
Nevertheless, once your whole staff of workers is to arrive in Dortmund, it will be wise to stop your choice on Mercedes Sprinter VIP. The latter is designed for driving up to two dozens of people in complete comfort and safety. The vehicle is in excellent condition and has even more impressive specs than the above-described one.
So, hire a chauffeured van in Dortmund and make your business tour to this wonderful city unforgettable!
Be Met at the Airport
Are you arriving at Dortmund Airport? Or perhaps you are heading to Germany on a train and will land in Dortmund Central Railway Station? In both cases, 8Rental is glad to inform you that we can come to meet you. The minivan and driver you book will be right there to take your entire group of colleagues to your hotel. We can stay nearby during your entire tour to deliver you to every destination safe and sound.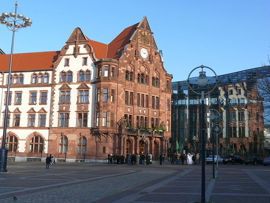 Tenable Drivers At Your Disposal
What do you think, what makes 8Rental a respectable car rental service? Our drivers greatly contribute in the fame we have in Europe. This car supplier has employed a staff of credible and responsible drivers all with driving licenses and impressive experience in the field. They know Dortmund's roads as well as ABC and will drive you to your destination easily. Any direction is familiar to them.
Dortmund for Business Travelers
Dortmund, like some other German cities, is famous for its incredible beer. Moreover, this city was once one of the country's most popular brewing centers. Today Dortmunder beer still attracts visitors from around the world. Hence, once you are here, no matter on what purpose, visiting a local pub and enjoying a glass of cool Dortmunder beer is a must!
Anyway, today's Dortmund is the center of the high-technology industry and welcomes numerous business travelers from across Europe. They come to attend conferences and sign important business contracts. And once the deal is done, a good Dortmund restaurant or pub will become the best place to celebrate it. Rent a minivan with driver in Dortmund and tell your chauffeur to take the direction to Der Weinkommisar, Bergmann Brauerei or Eat-the-World Food Tours Dortmund. Each destination will fascinate you with an interesting interior, fantastic beverage, and local welcoming atmosphere.
24/7 Customer Support
8Rental is available 24/7 for all its customers. You can place your order any time of the day, whenever it's convenient for you. 8Rental will supply all its clients with free fuel and insurance. We'll take all taxes and fees upon us. So, dealing with 8Rental in Dortmund is beneficial!