Minibus hire in Sochi, Rent a van with driver
Traveling with your entire family is such a fun and pleasure! Your spouse and you become more connected to each other, while your children learn new things. Your entire family gets new experience and good memories to cherish later. But if you love traveling with your family, you ought to know how difficult it is sometimes. Kids get tired so quickly and need comfortable conditions to rest even if they are away from the hotel. 8Rental is ready to undertake the whole responsibility of providing the convenience and comfort of your transportation while you are here in Sochi. Booking a minivan with a driver in Sochi, you won't have to worry about the rest of your kids while you are on your way to another magnificent tourist sight. So, if you plan to visit Sochi with your spouse and children, or with a group of your close friends, you'd better book a vehicle beforehand. For this, simply get a quote from 8Rental, fill it out and have your minivan with a professional driver meet you right at the airport. If you still have doubts concerning the reliability of this car and driver supplier, we offer you to get acquainted with what it can provide you with.
Responsible Approach to Every Client - Traveling With Families
Without its clients, 8Rental won't exist. We value every client who chooses 8Rental as its car rental with driver service and tries to never disappoint anyone. As we are servicing clients from all over Europe, we are available twenty-four hours a day and seven days a week. Once you have learned you are to leave for Sochi, visit the official website of 8Rental and be sure a proper vehicle will be waiting for you.
Premium Vehicles
Booking a minivan for traveling with your family is the second right decision after buying tickets to Sochi. 8Rental has some of the most convenient minibusses designed for transporting up to 24 passengers. For instance, a standard Mercedes Viano is a perfect choice if you have a limited budget and are traveling to Sochi with up to eight people. This minivan is equipped with such important specifications as comfy seats and seat belts, air conditioning, and heating, curtains, carpeted floor, DVD or CD disk players. On the other hand, a Mercedes Sprinter is what you need to be transported in the city with up to two dozens of people. Besides having a stylish exterior and an amazing interior, this model is powered with everything necessary for your entire family to be transported in Sochi in chic and style!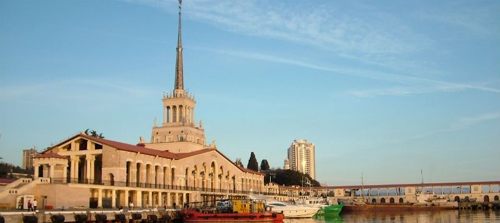 Chauffeurs Your Can Always Rely On
8Rental has employed some of the best drivers in the industry of passenger transportation. These are highly real professionals who know well how to drive accurately especially when there are kids in the vehicle. Hence, hire a chauffeur driven minivan in Sochi and drive in the city in complete safety. Besides having a driving license, as well as long years of driving practice, 8Rental chauffeurs know all the roads in the city by heart. All that you need to get to a certain place, is naming the direction. By the way, if you are not sure where to start your tour in Sochi from, the driver will gladly offer you some of the most interesting places in the city. We have chauffeurs who speak English, Dutch or French.
Sochi for Family Travelers
Sochi is a diverse city which has much to offer to its visitors. Rent a chauffeur driven minivan in Sochi to move from one tourist destination to another in comfortable conditions. Among the best destinations, both you and your children will adore is Skypark AJ Hackett. Anyway, this outdoor activity offers extreme tours with a great portion of adrenaline. Hence, it's more convenient for adults and young people, rather than kids. If your children are little, they will love the Khostinsky Tisosamshitovaya Grove where they can walk, enjoy the nature and get some really fascinating experience! Other places to visit with your family are the Panda Park, Rosa Beach, the Sea Zoo and Aquarium, the Rope Adventure Park, Sochi Charter, and many others.