As a modern city steeped in historical significance, Yekaterinburg in Russia has a feast of sights to discover. From ornate architecture through to monuments of respect and fandom, explore the best the city has to offer with our top twenty picks of unmissable buildings, statues, and sights. Along the Iset River embankment lies an oversized keyboard, created perfectly to scale. To make a wish, locals say type it in and press enter to make it come true. n the heart of the city, the Iset River Dam or plotinka, is the perfect place to take a break from exploring the city. Spend the afternoon relaxing in the manicured gardens or take a stroll along the pedestrian boulevard. Just up from the Iset River are the city ponds, another great place to watch the world go by. Stroll around them in summer or skate across them in winter. If you want to get a more realistic glimpse of the city you should start planning your trip of visiting it. When you plan you must consider the means of transportation that will help you enjoy your visit to its fullest stage.
8rental is one of those rental companies ready to provide its customers with the best vehicles, which come along with our chauffeur services. We are being on the market for many years now and we have heard feedback from our clients that made us want to serve more and more our already existing clients and those who consider our services for the first time. Send us a quote now, fill out all the requirements and let us further proceed with your request. We guarantee that the best city tours are always made on a hired minibus with a driver.

Main benefits
Hiring a Minibus with a driver in Yekaterinburg gives travelers a lot of advantages. First of all, an average vehicle can be used for up to a dozen people. Even though, travel expenses in the city are not very high but adding it all together from ten individuals will result in roughly the same costs as the daily rental charge with a driver. But the advantage is that customers will get a minibus and a chauffeur at their disposal available for twenty-four hours a day. From the moment the vehicle is hired, there will be no worries regarding the parking tickets, speeding penalties or any problems that may occur if for example alcohol has been consumed. You will never experience uncomfortable feeling by sitting in traffic jams behind the steering wheel or being confused by taking a wrong direction, or experiencing a language barrier when you do not understand what you are told by local people or a policeman.
Pickups
The rental charge will apply right from the moment you are picked up from the airport or train station. That means there will be no payment for the transfer as it is included in the daily rental charge. The driver will provide you with help in terms of your luggage handling upon arrival and when you are driven to a hotel or rented apartments. That will also be the case when your vacation in Yekaterinburg will come to an end and you will have to go back to the place of departure.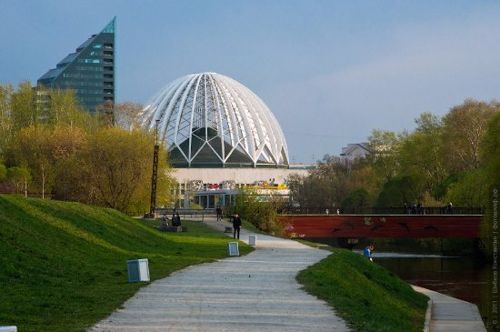 Moving around the city on a chauffeur driven minibus
The driver knows all the roads and routes of Yekaterinburg and can take you virtually anywhere at any time. He will help you plan your journeys, not only finding the best route but also offering you better logistics. Traffic in the city is especially heavy in the rush hour in the morning and at the times when everyone goes back from work. All drivers speak good English and they may speak a few other languages. If you have any preferences please do not hesitate to specify that. You will also be advised where it is better to dine or even to find a place to eat, or where to have better deals when you go shopping for souvenirs.
The range of minibusses we can supply
As it has been mentioned before, an average vehicle has around ten seats, however, if a bigger one is required we can get it for you. Most of the vans are produced by most common manufacturers like Nissan, Renault, Volkswagen etc. All of them are equipped with amenities that will make your journeys comfortable and pleasant. These features include air conditioning, climate control, TVs, DVDs and safety features.
Minibus reservation
Reserving a minibus is not a complex process at all. Usually, customers contact via the social network, email or most of the times over the phone. Please specify all your requirements including dates and vehicle size. If all of the queries are cleared and there will be no questions, all that will have to be done is to pay and receive official confirmation from our representative. We are sure you will have the most wonderful journey ever by renting a minibus with a driver at 8rental!