Coach hire in Bruges, Rent a Bus with driver
Searching a big bus in perfect condition? 8Rental is here to help you! Don't search further but get a quote!
The Importance of Hiring Coach for Large Groups
Do you intend to organize a grand tour around Bruges for a large number of foreigners? We need to admit, it's a grandiose decision! Bruges is a wonderful city which has much to offer to any visitor let him/her be from Americas, Asia or Europe. The countless number of architectural, historical and artistic wonders make the city a perfect destination regardless the season and weather. However, so that all your guests enjoy a truly fantastic and, of course, comfortable tour, it's worth considering booking a large vehicle obviously from a reliable rental service. 8Rental is just that type of a vehicle supplier in Europe! Here you can find and book a perfect vehicle to accommodate all your tourists and drive them along Bruges's roads in complete comfort and safety! We know you value the convenience of your guests and want to remind we value your trust in us! Be certain, 8Rental is committed to doing everything necessary to achieve a high customer satisfaction level.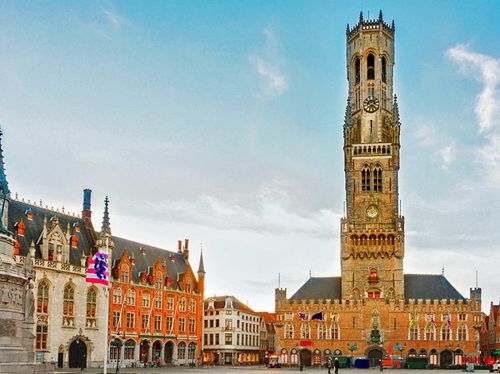 Choosing 8Rental as Your Car Supplier
8Rental is a leading chauffeur service that operates in the territory of entire Europe. The huge majority of customers from around the world serve as a pledge for trust. We never let down our disappoint our clients. Instead, we make sure all their expectations are implemented. Right from the beginning up to the end every order is supervised and monitored by experts to make sure everything is kept for achieving a satisfactory result. You see that you can trust us whenever you need to rent a bus with driver in Bruges!
Capacious and Safe
What vehicle can drive your guests more comfortably than a huge Mercedes Sprinter?! Perhaps only the VIP variant of this bus. Mercedes Sprinter is equipped with such specs as central heating and air conditioning, premium audio system with CD/DVD, a TV (for extra charge), amazing seats, reading lights, a minibar (optional), toilet, a refrigerator, etc. Driving in this huge bus, up to sixty-five tourists won't feel any discomfort! Hire a chauffeured bus in Bruges in perfect condition to ensure your guests with an utmost comfortable driving!
Expert Drivers
8Rental deals with only professional drivers who have driving licenses, years of experience in the field of passenger transportation. By relying on them, you are guaranteeing yourself with truly safe drive in Bruges. By the way, they master not only German and French, but also other languages. They know the city's roads well and always take the right direction. Hiring an expert driver from 8Rental for a huge group of tourists is beneficial in all ways! Your guests can be met right at the airport or railway station. This way both you and your guests will save on expenses as taxis in Bruges don't charge little.

Freebies
8Rental is online 24/7 to receive its clients' quotes. Our CS operators are always ready to accept orders, answer your questions or respond to your suggestions. We are glad to inform you that by booking a vehicle from 8Rental, you will be provided with free-of-charge fuel and medical insurance. Additionally, you won't be in charge of any fees or taxes.
Bruges: Untouched by the Time
Bruges is one of those unique European cities that seems to have avoided the passage of time. Strolling along the city's roads is like walking into a medieval world. Here you get surrounded by constructions of great historical importance. The world-class museums, cool bras, fashionable restaurants and many sights will be at your disposal once you arrive in Bruges. Just rent a chauffeur-driven bus in Bruges and have your guests accommodated conveniently.