Chauffeur service in Romania, Rent a car with driver
Booking a vehicle with a skillful driver in Romania hasn't ever been so easy before as it is now. 8Rental presents to your attention really beneficial conditions of hiring a car in entire Europe. Being in the industry for long years, we have gained a good reputation among both customers and other rental services. And now we are offering you a series of amenities you won't get by entrusting your transportation in Romania to any other car rental service. Ordering a vehicle is so easy that it won't take you more than a couple of minutes. Just get a quote and follow these brief instructions to complete it successfully.
Best Car Rental in Romania - Getting a Quote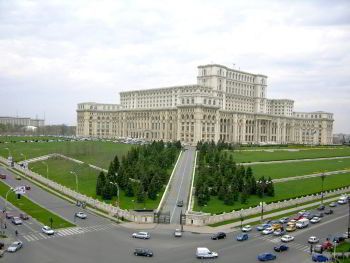 The first step you are to make after requesting a quote is mentioning the journey type. Afterward, you will need to state the start date and time, as well as the pickup and destination addresses. The number of passengers you are heading to Romania with is also of great importance. This information will determine what type of a vehicle you will be advised to book. At 8Rental chauffeur service, there is a chance to hire a car, a minivan, a bus or even a limousine. Just the same way you can select car class. Before completing your personal information such as your name and surname, your email and phone, you can mention any additional service you would like to get. Perhaps you need the car to meet you at the airport or the railway station or need an extra amenity in the vehicle. All additional requirements, as well as the language your driver should master, must be stated, too. Besides Romanian, our chauffeurs master different foreign languages, too. By the way, 8Rental will provide you with free fuel and medical insurance. This is a great advantage as compared with offers made by other rental services.
So, once everything is completed, all that you have to do is enjoying comfortable driving in the country provided by 8Rental.
Premier Fleet of Vehicles
Whether you need to rent a car a minivan or a bus with driver in Romania, 8Rental is at your disposal. Our cars are equipped with everything necessary so that you get a great pleasure of every kilometer driven with us. The same refers our minivans. You can rent a Mercedes Viano, a V class or a Mercedes Sprinter minivan at an affordable price. These models are designed for transporting either up to eight or up to twenty-four passengers in complete comfort. Hire a minibus with driver in Romania to have your entire group of travelers transported in safety and comfort.

As far as you are concerned about hiring a bus, there is no better destination than 8Rental. It offers to choose Mercedes
Tourismo
and hire a chauffeur driven coach in Romania right away to be driven in the city in comfort. This huge bus can accommodate sixty-five passengers at the same time.
Anyway, if you are used to driving in chic and style, consider renting a luxurious limousine. 8Rental has obtained several fabulous limos to satisfy any client's most capricious requirements. Just hire a limo with driver in Romania for your special event in the country.
Dependable Chauffeurs
Even if the vehicle you are driving in is a premium one equipped with the most advanced safety system, you won't feel safe until there is a professional driver behind the wheel. By booking a vehicle from 8Rental, you are getting an experienced chauffeur at your disposal. Our licensed drivers who are well acquainted with the roads of the city you are driving in will deliver you to any direction necessary. Thousands of clients around Europe rely on our drivers, hire a vehicle from our car rental and be one of them.
Romania in Your Palm with 8Rental
Someone said, "Romania is elegance layered with history". This amazing European country fascinates with its contrasts. On one side there are marvelous scenes of overloaded horse- and hay-carts, while on the other side there luxurious supercars driving at high speeds. Side by side with ancient ruins there are fashionable modern buildings that attract the youth. Once you are in this gorgeous country, let it be Bucharest, Cluj-Napoca or any other city in the country, you are welcome to respectable car supplier. Rent a car in Romania and drive to such tourists' attractions as Cotroceni Palace, Herăstrău Park, Cantacuzino Palace, SalaPalatului, and others.
With us you can rent a car, limo, minibus, coach with driver in Romania to visit the most famous cities in the country: