Our services at 8Rental are designed to be easy to use, safe and convenient for you. We provide a wide range of services, including: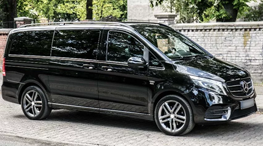 Car rental with driver
Minibus Hire
Bus Rental
We aim to provide safe, reliable passenger transportation services for our customers in a convenient, affordable way. Our focus is on providing an exceptional service every time without breaking the trip so that you can enjoy a superior driving experience across Europe and the UK.
Our core values at 8Rental are built on reliability and trust, so we strive to provide our customers with a service that they can depend on. Whether you are looking for a simple airport transfer or something more luxurious, you can rest assured that our team are professional, courteous and reliable every step of the way.
We have a dedicated team on-hand at 8Rental to help you with any queries or concerns that you may have. Our customer support team are available 24 hours a day, 7 days a week to answer your questions and address your concerns. We have a professional roster of trained drivers with years of industry experience. This means you can enjoy a relaxing journey in the comfort of one of our quality minibuses and buses, safe in the knowledge that our drivers will keep you safe on the road.
Our fleet of modern cars and buses is regularly maintained in-house to ensure they are kept in excellent condition, so you can enjoy comfort and safety on the open road. All of our vehicles are modern and available across all types of groups, including: Minibuses, Buses, Minivans, Cars with drivers.
Car & Minibus rental in Europe with driver.
We provide a comprehensive driving service across Europe at 8Rental so that you don't need to worry about a thing. We make the journey as convenient as possible for you. We carefully plan and organise every trip that we take to provide an optimally planned route. This gives you affordable prices and reliable travel times without any hassle.
When it comes to minibus hire, bus rental or car rental with driver, we aim to provide a superior service at 8Rental. Our services are perfectly suited for: Day trips, Excursions, Multi-day tours, airport transfers, City transfers, Business trips and events, meetings and gala.
We work hard to provide a comfortable service for all of our passengers at 8Rental, offering all of the creature comforts while you enjoy a leisurely drive in a comfortable vehicle. It's an ideal solution for small groups, big groups, tourists and business travellers across Europe. We offer exceptional value for money through our services so that you can spend your money enjoying whichever European destination you want.
So, why choose us?
At 8Rental, we have years of industry experience that have helped us form a meaningful service for our clients. We make sure to provide a modern fleet of vehicles to choose from, including a wide range of cars, minibuses, buses and more at an all-inclusive price. We offer a tailored service that perfectly meets your needs, so every trip that we do is bespoke. Our team even optimises the budget for you, so that you can dedicate more funds to making your journey as enjoyable and comfortable as possible.
We are also an incredibly affordable option at 8Rental. We have managed to provide such a cost-effective service by providing rates that balance reliability, quality and affordability. Our services are a less expensive solution for travellers in Europe, allowing you to focus your budget towards enjoying your time on the continent.
If you're interested in learning more about our wide range of car hire with driver, minibus rental, coach hire at 8Rental, contact a member of our team today.