Minibus hire in Amsterdam
8Rental considers that every tourist group needs to be greeted by a smiley chauffeur with a beautiful and modern minibus. Hire a minibus in Amsterdam and you will not regret it. Hire a chauffeured minibus in Amsterdam and go to the place you need in the comfort by leaving all logistic duties to the driver.
Minibus rental with a driver in Amsterdam
In case many friends or big families want to gather in Amsterdam & don't know how to hire van with drivers, have to apply for 8rental's offer. Standard chauffeured hire minibus is developed for pleasant transportations on city roads.
Business minibus hire in Amsterdam
If a business trip suddenly occurred, definitely you should hire a minibus with a driver by 8Rental's firm. Luxury provided variant suits to business people, meetings, or affairs.
Hire a minibus with a driver in Amsterdam or chauffeured van rental
Proposed offers by 8rental's supplier are very convenient for simple & business passengers transportation needs because they include:
meeting at the required address
French, Dutch, Russian, English speaking driver
Business, Standard, or First class chauffeured minibus
Minivan, minibus, van hire with driver option
Airport transfer service if needed
Unforgettable Amsterdam
Amsterdam is a popular tourist Europe center, annually visited by more than 4.64 million guests from different countries.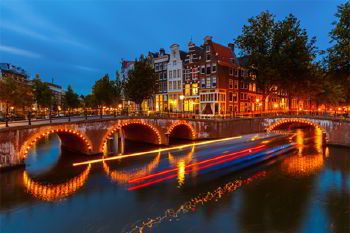 Amsterdam is the largest Netherlands city, located on the Amstel river. Tourists every year visit attractive Amsterdam as it combines the atmosphere of 17th century with modern metropolis mentality, creating a friendly & comfortable environment. Low-rise buildings & seclusion of streets, canals & squares create an atmosphere that city guests find unique.
Since all city territory is located on marshlands, construction of wide highways or huge skyscrapers is just impossible, but this does not diminish Amsterdam's tourist attraction. Cobbled narrow streets with old buildings on tall beams, huge flower beds of tulips & an abundance of parks create very unique comfort, friendliness & romantic atmosphere.
Amsterdam's historical center is distinguished by a large number of well-preserved medieval buildings - churches, residential, museums & merchant houses. Rembrandt's house was bought in 1639 & he lived & worked here. In 1658, this house was auctioned off for debts. Now it is a museum - "Rembrandt House".
Speaking about Amsterdam, popular red light district should be mentioned, as well as "coffee shops" - a cafe where light drugs are allowed. Besides large shopping centers, Amsterdam has small ancient shopping streets, where private designer shops are located, this is Kalverstraat & Nedenstrains nine streets.
Chauffeured minibus in Amsterdam rental service
Drivers & Chauffeurs are the first people who pass the verification process. Driver license is a mandatory document that chauffeurs should have to work in an 8Rental company. To drive a vehicle in a proper way drivers should raise their professional level.
How to book chauffeur driven minibus:
Navigate to 8Rental.com & find the quotation form
Write in trip & personal details requested by 8rental's Customer Support Operator
Receive payment request & confirm proposal by payment