8Rental is outstanding supplier in passenger's transportation field. This company strives to satisfy customer's needs & apply modern technologies to transportation conditions. 8Rental is proud of every new glad customer, as everyone is appreciated. Hire vehicle with driver & check all advantages of proposed offer:
Great transportation conditions
Business, standard or first class chauffeured vehicle type
car chauffeured hire
Long-term or hourly hire time period
Russian, Dutch, French or English speaking chauffeur
Car hire with driver in Amsterdam or chauffeur rental Amsterdam service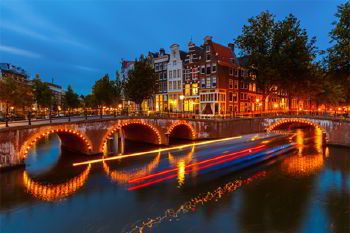 It seems that here at every step you should be greeted by a kind cloud of fragrant smoke, woolly-dressed women wax impudently from reddish windows, and "freaks" & eccentrics from all over Europe walk around the city streets. In a word, debauchery & vice. And in fact - small Dutch, the palette of Van Gogh, the tulip fields, idyllic canals & dexterously cutting tourists local granny on bicycles. Miracle? No - it's Amsterdam, it's completely different, but it's always yours. If you want entertainment - go to Leidseplein. If you are a strict traditionalist & a fan of Brueghel - go to the Museum Quarter. A gentle fan of succulents and bulbous? Visit popular Keukenhof & the flower market. Amsterdam will not offend anyone, but fascinate everyone.
Amsterdam is really a city of cyclists, although riding a bike through the streets labyrinths can result in chaotic wanderings. Walk on foot or hire a car with driver & you will not be disappointed. Peacefully flowing channels perfectly combined by the appearance of the squares of Jordaan & Rembrandt. For sure you must visit the Red Lanterns quarter. The Anne Frank House is one of most powerful upheavals a traveler can experience & the Van Gogh Museum will surprise you with an amazing collection of works.

Team organization & hire process
Inside 8Rental company exist strict regulations that every coworker should follow. Drivers & chauffeurs should obligatory have valid driver license , as well as rest personnel should have great professional skills. Hire vehicle with driver & explore all professional skills.
Car chauffeured hire – standard type
Standard car chauffeured hire such as Ford Mondeo, Toyota Camry or Volkswagen Passat can be chosen as hired vehicle. Reliable vehicle with modern design is affordable hire vehicle with driver.
Car hire with driver – business or first class type
Business or first class chauffeured car hire such as BMW, Mercedes or Audi can be selected as luxury hire type with driver. Organize your ride by modern & luxury conditions, because you can afford it.
Booking steps to hire desired chauffeured driven vehicle :
Apply for quotation form
Fill required fields with trip & personal details
Wait for confirmation from 8Rental's operator & pay out chosen offer.