Minibus hire in Munich, Rent a Van with driver
Are you heading to Munich with your family? Wouldn't it be more convenient to order a van with a professional driver prior to arriving in the city? We are sure you have thought about this, too. That's why you are getting more information about 8Rental before you determine to entrust your transportation to us. Well, 8Rental is one of the most trusted car and driver suppliers in Europe. Booking a van from this service, you are being provided with a number of advantages. Would you like to know particularly what advantages are waiting for you here?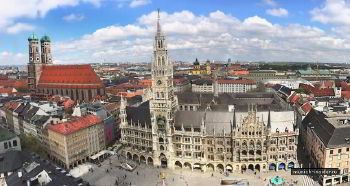 1. Fabulous Drivers
8Rental chauffeur service provides its vans exceptionally with drivers. Here you can't rent a car and drive yourself. And why should you if our entire professional staff of chauffeurs is at your disposal! These are licensed and skillful experts who have been driving in Munich for many years. We guarantee each driver shows responsible approach to every client. Besides, they can speak not only German but also a series of other languages. Choose the driver you can communicate with.
2. Fantastic Fleet
Suppose you have already decided to rent a van with driver in Munich yet can't determine which model to choose. No need for a mess up! Contact our cs operators and get reliable recommendations. 8Rental has several minibus offers. If your family is not that much extended, a Mercedes Viano can become an excellent choice. It can drive up to eight passengers. This van is a standard class vehicle, yet looks elegant and will drive down the city roads safely.
Another wonderful option to consider when hiring a minibus is Mercedes Sprinter. This is a significantly larger vehicle with a capability to drive over two tens of persons. You and your family won't feel any discomfort in this van, as it can take any direction as smoothly as you could never expect!

All these vehicles are in excellent condition and won't let you down right in the middle of the street!
3. Little Surprises
Do you think our offer is limited to supplying premium vans and credible drivers? You are mistaken! 8Rental has a couple of nice surprises for all its clients. The first surprise is the free fuel. Irrespective of the length of your route in this city, the necessary fuel is under the responsibility of the company. Just the same way, we are in charge of all taxes and fees. Besides, we shall provide you with an insurance in case of emergency. What concerns discounts, our faithful clients are well aware of them! Become one of them by renting a van with driver in Munich!
Exploring Munich For Teenage Travelers During the Weekend
Despite the two world wars that almost wholly destroyed Munich, this German city is still "on its feet" attracting numerous foreign visitors every year. This is an important business city with much to offer to tourists, too.
So, if you are traveling with your family, you will definitely need to rent a van with driver in Munich. To make the vacations utmostly enjoyable for your teenage children, 8Rental suggests making a precise plan for the entire weekend beforehand. Make sure you have included visiting Marienplatz, Glockenspiel im Rathausturm, and Munich Residence into the list of must-visits for the first day. Take your children to dine at LENZ Schankund Speiselokal. Here they can enjoy delicious German meals at affordable prices.
Hire a chauffeur driven minibus in Munich for comfortable traveling on the second day, too. Devote this day to BMW Museum and Olympiapark. And if your children got tired of German meals, take them to Traverne EI Greco Inh. Hr.Angelidis restaurant that serves Mediterranean cuisine.
And the last day in Munich with your family should be spent in churches of the city. 8Rental car rental service is ready to be by your side throughout these couple of days in Munich!