Charter Bus hire in Munich
What do you expect to get when dealing with a bus rental service? A coach in excellent condition? Or perhaps the availability of a professional driver you can rely on is more important? Some clients may also expect freebies. However, if you are a scrupulous client who wants to get all these together, you are welcome to 8Rental. We are the Munich bus rental supplier you have been looking for, as the best deals are made right here, on the website of our service. Choose 8Rental whenever you are to hire a bus with driver in Munich. Let's get acquainted.
Standard and luxury buses for rent
Are you welcoming a huge group of important guests from abroad? If this is your case, 8Rental suggests booking a Mercedes Tourismo VIP. This luxury coach will make any driving utmost comfortable and enjoyable. It is equipped with such amenities as a toilet, a small kitchen with a fridge, a coffee machine, a minibar (optional for an extra charge), air conditioning, central heating, and so forth. The bus looks fantastic.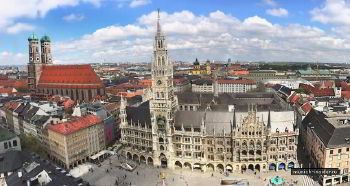 However, if your budget is not enough for hiring this model, you can stop your choice of the standard variant of Mercedes Tourismo. Like the VIP model, this one, too is designed for driving up to sixty-five people. It is well-equipped and will drive comfortably along Munich's roads.
8Rental also has wonderful options for smaller groups. Its Mercedes Sprinter (both standard and VIP variants are available) coach will accommodate around twenty-four passengers. The vehicle features comfy seats, audio system, safety system, air conditioning, and other specifications.
Try and rent a chauffeured bus in Munich now and you will agree with us - there is no better coach rental service you could find.
Interesting tour around Munich
Munich has so many amazing sights to offer its visitors. Despite the fact that this wonderful city was destroyed by the two world wars, quite much of the city's initial look was restored. Now it attracts visitors for its unique tasty beer and a number of fascinating sights. And if your guests would like to have a huge glass of cool German beer before exploring the city, take them to Hofbrauhaus. Once they are done with this bar, it's worth taking them to Marienplatz, BMW Museum, Hitler and the Third Reich Munich, Asam Church, Nymphenburg Palace, St. Peter's Church, Isartor and others. Make traveling in Munich unforgettable and comfortable for your guests with 8Rental.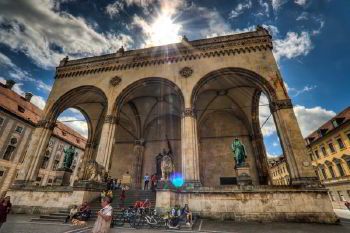 Qualified bus drivers in Munich
Our staff of drivers is composed of only qualified chauffeurs, who, besides the specific driving license, also have years of experience in coach hire and spotless recommendations from their previous employers. Having one of 8Rental's drivers behind the wheel of the coach you book, you can be entirely calm for your and your passengers' safety. What you will like when hiring a bus from 8Rental is how well they know the city's roads. They find the direction so easily. Besides, 8Rental has employed drivers who speak other languages, besides the German language. So, there can be practically no misunderstanding between you and your driver. Hire a bus in Munich and your group will be met just at the airport.
Reputation as our visit card
With many years of experience in the field of charter bus rental in Munich, as well as thousands of clients served, we have the right to say we earned our reputation. We deserve the trust and appreciation of our constant clients and those to become. The purpose of 8Rental is to make traveling in Munich, as well as any other German city safe and comfortable for all people. Regardless of the purpose that drew our client to Munich, and regardless of his requirements, we are ready to do the impossible to have him entirely satisfied with our services.
By the way, by booking a coach from 8Rental, the company will provide the fuel. This won't cost additional money. The pricing system of 8Rental is transparent and clear with no hidden fees.