Car hire with driver in Munich
Munich is unofficially considered as Germany's southern capital. Actually, this city is the home of charming street cafes in Mediterranean style, the German industry of high technology, samples of highbrow art and a wide array of other wonders you are sure to get fascinated by. Arriving in this exceptional city and spending some days here, can undeniably become the most amazing traveling experience in your life. All that you need is to plan your tour in Munich accurately. First of all, think about the transportation means you will use in this foreign city.
Only after you are sure your driving in Munich is safe, you can concentrate on enjoying your time. 8Rental suggests hiring different cars with drivers in beneficial conditions in Munich.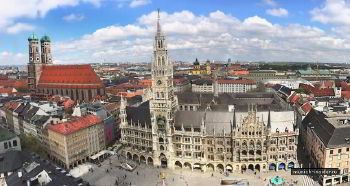 We offer exceptionally premium private car models, and professional drivers all at affordable prices. Our pricing system is transparent and clear. You will be nicely surprised at what an affordable price you can get your personal means of transport in Munich. Just rent a car with driver in Munich now, at 8Rental.
Drive in comfort and luxury car service
Are you used to driving in luxury in your hometown? 8Rental can provide you with no less lavish driving conditions. We offer to book a Mercedes C class, a BMW 7 or even an Audi A8 car. All these, and a number of similar cars are at your full disposal right now, and right here. The private cars look gorgeous and promise you an unforgettable driving experience whether you are in Munich on business or for leisure.
If you are here to sign a contract or make any other deal, we are sure you will like to work inside the car surrounded by all possible comfort amenities while the reliable chauffeur behind the wheel is driving you along the city's roads. Your car can have such specifications as central heating and air conditioning, tinted windows and carpeted floor, a premium safety system, cruise control, an advanced audio system, and so forth. Hire a chauffeured car in Munich and be prepared to enjoy every minute spent here.
Anyway, if you can't afford to book a lux car ad driver, it's sensible to consider booking a standard-class model such as a Skoda Octavia, Toyota Camry, etc. These models are great for traveling in Munich with your spouse, a close friend or all alone.

Discover Munich in one day by having a car service
Are you in Munich for only a day and worry you can't discover its wonders? Be sure, a single day is enough, too, to feel what it means to live in Munich. Just don't forget to have a lot of beer during the day, as this drink is the visit card of Munich (perhaps of the entire Germany, too). So, suppose you are already here. Rent a chauffeur-driven car in Munich and start your tour. Marienplatz is the heart of the city and your starting point.
After exploring the surroundings, head to Viktualienmarkt. In this market, you will find the most diverse sweets, fruits, nuts, cheese, dried fruits and other goodies from different angles of this world. Other sights of great importance and interest are Allianz Arena, Olympiapark, Dachau Concentration Camp Memorial Site, Nymphenburg Palace, Munich Residence, Karls Gate, Ruhmeshalle und Bavaria, and others.
Entrust your driving to a skillful private driver in Munich
Dealing with 8Rental, you will have a dependable chauffeur behind the wheel. Be certain, it's entirely safe letting them drive you in all directions in Munich. Our chauffeurs have driving licenses and long years of expertise in the field of passenger driving. They are responsible and ready to work under pressure.
Hence, even if you plan to have the driver at your disposal for several days, expect professional serving. By the way, we have German-speaking drivers and those who master French, Italian, English and other languages used in Europe. We do everything to make your car and driver experience the utmost convenience. Additionally, we are in charge of the fuel necessary for the whole tour.