Cluj-Napoca is full of various architectural monuments, exquisite temples, and luxurious Renaissance palaces. Music and visual arts are popular in this wonderful city and often tourists can find plenty of festivals or exhibitions to attend in Cluj-Napoca. The nightlife of the city is very lively, this is due to a large number of students living here. Visitors say that it seems that every second local resident is a student and calls Cluj-Napoca Romanian Cambridge, Oxford and Sorbonne combined. Along with the entertainment, local people respect sports, so tourists often come across sports clubs and halls. Convenient transportation and convenient infrastructure allow travelers to plan their excursion program efficiently. The architecture of Cluj-Napoca does not leave a single tourist indifferent. A harmonious combination of medieval baroque, the architecture of different periods, Gothic architecture, buildings of socialist times and modern modernism allows saying that Cluj-Napoca belongs to the place of rich architectural heritage. On the Vicinity of Cluj-Napoca, lavishly decorated with green fields and picturesque forests, among which the medieval castles and valuable historical relics are beautifully hidden
Perfect chance to travel over Cluj-Napoca on a hired minivan
During planning a trip to Romania with a travel company from 4 to 8 or from 9 to 24. It will be reasonable for people to visit the city of Cluj-Napoca and move around it on one of the reliable minivans of the rental service with the driver.The best option for every tourist is to use the rental service of a modern minivan. Any tourist will be satisfied with this type of service, as this company operates at the highest level and provides every tourist with a quality service. Here each traveler can not only book a vehicle for the right date but also hire a professional driver for a more comfortable, productive and quick movement around the city.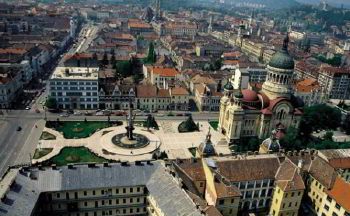 Cluj-Napoca city - an amazing place to travel around on minibus
Minivan hiring - a reasonable choice for a perfect trip
Renting a good, modern minivan for traveling through an unfamiliar city is the best option for everyone who is going to visit the charming Cluj-Napoca. This is the best service for renting quality cars for any purpose for productive and safe movement around the city.

Chauffeur for a hired minivan to have an excellent voyage
Service drivers work at the highest level and provide a good and safe service for every customer. All passengers won't have to worry during the trip on a reliable minivan with a conscientious driver. Employees of the company take their work very seriously and try their best to please the customers. No matter what the purpose of the trip and how many people are going to visit such a wonderful city called Cluj-Napoca - the company for renting modern minivans is always ready to provide high-quality and safe service.
Conscientious service for every tourist, to make the journey the best event ever in life.