Charter bus hire in Naples
Are you searching for a reliable charter bus company providing service in Naples? We are here. Our experienced and highly professional buses pride themselves as the most qualified bus rental service in Naples and Italy. We will safely deliver your group to your requested location in Naples. Our chauffeurs are well-trained to drive a coach. No matter where the road leads, hiring our charter coaches in Naples promises to create noteworthy assistance for your tour. Don't postpone and reach out to us today.
Our coaches utmost priority is your safety, comfort and memorable travel experience
Our style and comfort-oriented coaches care about you. We highly assure you of no accommodation issues in your travel group.
We offer a budget-friendly standard economy class bus rental within Milan! European-style buses in the best condition and super soft high spacious headroom. Our buses also have comfortable seats and excellent dynamics. 
If you are going to the next business/group training or tour our evolutionary luxurious and highly motivated coach will guide you from the airport to your requested location. Our luxury charter buses are characterized by incredible craftsmanship, panoramic windows, beautiful leather upholstery, plush seats, e.t.c. 
Our rental service type comprises:
Maximum ride comfort 
Highly spacious cabin 
Professionally arranged interior details 
Cozy seats and lots more 
Our offer includes:
Coach/bus
Local carrier
Fuel
Value-added tax
Tolls expenses
ZTL is no included - to be clarified/ depends on the zone
What to expect from a bus rental service in Naples?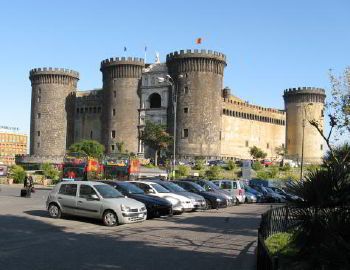 We ensure a professional bus rental with our talented chauffeur and coach in Naples. Our passion is to guarantee comfortable passenger transportation on the scenic streets of Naples at a reasonable price. The geniality, excellence, and punctuality to name a few are part of the ultimate reasons to hire our charter coach handled by professional chauffeurs. Our carrier's personnel comprises well-trained pro drivers and coaches familiar with the four walls of Naples. Ordering the professional service of our coach means you're opting for the top Naples bus supplier.
Rent a coach with a friendly driver Naples
Naples, located in the Campania region of southern Italy, a two-hour drive from Rome. Being a metropolitan area, Naples lies as a vital transportation hub in the Southern part of Italy. Naples sits on the northern edge of one of the most beautiful European bays - the Bay of Naples. Entering Naples by plane is super-easy through the Aero Porto Capodichino. This airport serves flights from different parts of Italy, Europe and around the world. 
Here are three simple steps to follow if booking a chauffeured coach with us:
Request a quote from our friendly customer service team
Get preliminary cost
With the deposit, confirm chauffeured bus booking. We'll be awaiting your quotes.