Minibus hire in Bruges, Rent a Van with driver
Get a quote to hire a van in Bruges at the most respectable car rental service! Don't waste your precious time, go ahead!
Organize a traveling to Bruges with 8Rental
Are you on a vacation and want to spend it impressively? Why won't you head to Bruges with your close friends and enjoy your free days there? Be certain, you will cherish your memories of the days spent in this marvelous city greatly!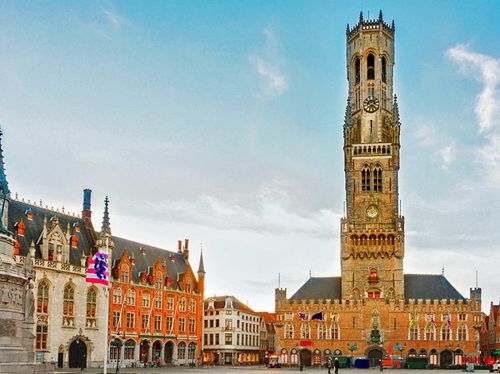 Anyway, before you arrive in Bruges, it's worth thinking about the transport means. For traveling with friends in comfort and safety, you'd better consider hiring a minivan so that all of you have your comfy seats. 8Rental is the service you can trust every time you are to travel abroad. So, don't lose your precious time but rent a van with driver in Bruges before leaving for this city. This way you will greatly economize your time and your entire group will be delivered to your hotel straight from the airport. 8Rental can meet its clients anywhere mentioned let it be the airport, railway station or any other destination.
Dealing with 8Rental is Profitable
Dealing with 8Rental and booking a vehicle from this trustworthy car rental service, you are sure to impressively benefit. We are committed to maximal transparency, hence can tell you the exact amount of your order with no hidden fees. Moreover, all taxes and fees are our responsibility. Just get a quote, fill out the necessary points and have the price precisely calculated. Be ready to get pleasantly surprised.
Additionally, 8Rental is in charge for the fuel and insurance. Hence, the costs for the latter won't be counted in the final bill.
Our Fleet of Minivans
8Rental can offer a perfect minivan to suit any client's requirements. Taking into account such aspects as the number of passengers that will be riding in the vehicle, the budget you can afford, and the expectations you have, book a Mercedes Viano, V class, or Mercedes Sprinter (VIP option is available). All these models are equipped with premium comfort amenities including convenient seats, window curtains, central heating, air conditioning, audio system, etc. And if the first two models are relatively compact and neat to drive only up to nine people, the third model and its VIP variant are significantly larger and can accommodate up to two dozens of passengers. Choose any model to rent a chauffeur driven minibus in Bruges on the most affordable conditions.

Drive Safely with a Skillful Driver Behind the Wheel
Do you worry who will be driving the vehicle you have just rented from 8Rental? No need! All drivers employed by our chauffeured service have driving licenses, years of experience, and a high sense of responsibility. By selecting 8Rental car rental you entrust real professionals. They know the city roads well enough to take the necessary direction easily. You won't ever get lost with them, while if you choose public transportation, a series of inconveniences will be awaiting you including standing in queues for buses, or the underground, requesting every second passerby about the right way or searching it in the map/GPS. Additionally, wouldn't you like to hang out late with your friends in a pub in Bruges knowing all of you will be safely driven to your hotel afterward?
Exploring Pubs in Bruges with Friends
Bruges is a remarkable Belgian city popular for its fantastic architecture, chocolate and, of course, beer. Actually, for strolling in the center of the city, you won't need any transport. Yet, for taking a direction to far parts of Bruges where you can find not less impressive sights, you definitely need to deal with one of the most outstanding car suppliers in Europe.
The entire city emits deep appreciation toward its history, yet the modern establishments are a proof of love toward the present. Church of Our lady, Groeninge museum, Hof Bladelin and a great number of other sights are definitely of great importance. Yet, if you are here with your friends, hire a minivan with driver in Bruges and tell the chauffeur to take you to La Galleria, Alea, NUNO'S Wijnbar, Comptoir Des Arts bars to enjoy the real Belgian beer.