Are you planing to journey to Naples? Minibus rental in Naples will help to understand this city from the inside, and discover its history and modern life. The service has the best and the most reliable auto park. Each minibus is well-checked and ready for another trip to Naples. All possible conveniences will be just the right things during such a journey. The interior made with style, and the salon is always in clean condition so that each tourist will feel at home even in the unfamiliar сity. During this minibus tour, Naples visitors can relax, eat or listen to music while the driver will be guiding them to a planned location. The service works on the highest level providing each tourist an excellent trip all over Naples. Each client of the company will be able to appreciate the quality of service and high level of professionalism that the working staff has. By hiring a minibus in Naples from 8rental for a family or friends' trip, each customer receives a 100% guarantee that everything will go even better than it is possible to imagine. In the auto park of the service, there are exclusively reliable, serviceable vans, after all, the most important, is the safety and comfort of each tourist. Vans drivers have a driving license and extensive driving experience.
Chauffeured minibuses - our high-quality vans in Naples

Our fleet consists of modern and comfortable minibusses. All our minivans and minibuses undergo monthly safety checks and inspections. Our vans comply with seatbelt regulations. Our minibusses are ideal for group travel, whether for corporate events, team travel, school trips or larger family groups. Select from our modern fleet of minivans and minibuses with 8, 16 and 24 seat capacity and let us make your trip to Naples unforgettable!
Minibus rental with a driver – feel safe and confident 
Renting a minibus with a driver none will have to worry about the safety of himself and his loved ones. All drivers who work in this service know their business and devote themselves entirely to their work. Ordering a minibus with a driver the customer receives not only an experienced chauffeur but also a friendly, intelligent, affable person with whom it is pleasant to communicate especially because all our drivers speak several international languages. You just need to mention the language you would like him to be talking!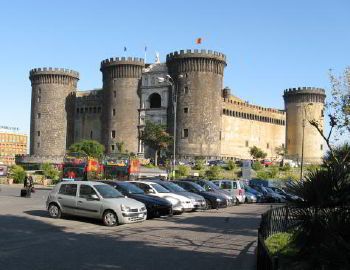 Excellent minibus hire journey around Naples
The city, which is located at the foot of the dozing volcano, attracts fans with the southern sun, great pizza, and cultural recreation. In Naples, life is the key, and to break into this flow is best with the breeze. The transportation tourist company offers the rental of minibuses in Naples so that everyone can make an exciting adventure in this marvelous place. During this trip, the visitors will see castles, museums, and observation platforms with the best views - the whole of classical Naples. From an excursion to Naples, tourists should expect not only historical things: it is a real immersion in the city and what it is famous for.
Moreover, Naples, for example, is renowned for its pizza. It was here that the recipe of the famous "Margarita" was born, which everyone should try during the excursion in this city. Therefore, all guides can suggest to each visitor an excellent café to try this delicious meal. Fans of shopping will be a real joy excursion in Naples by visiting the shops and a trip to the outlet, where attractive prices are combined with high quality. Everyone will find something to do in the city of sun, pizza and Italian hospitality are waiting for each tourist.