Minibus Hire in Nantes, Rent a minibus with drive
Answer on the question where to find best passenger's transportation supplier with driver is simple – 8Rental.com. Surfing through the internet & searching for "hire vehicle with driver" undoubtedly 8Rental.com will be your guide in the world of passenger's transportations with driver in Europe. Obviously 8Rental chauffeured hire service – primary one beside others.
Combined rate:
Fuel
Chauffeur
Sleek minibus
Toll roads
Taxes
Rent minibus with chauffeur in Nantes with 8Rental.com & turn visit into an unforgettable journey!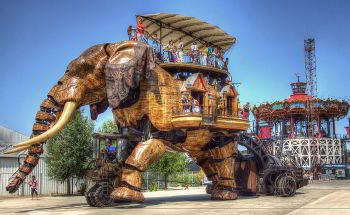 In each area of Nantes can be found different ancient & modern attractions. Historical center is the area is Nantes old town. Famous architectural masterpiece of this area is the Cathedral of Saints Peter & Paul, whose construction began in XV & completed in XIX-th century. Another monument of architecture is the castle of XV century, which belonged to the Dukes of Brittany. Castle famous for being a place where the Blue beard was executed & Henry of Navarre signed the Edict of Nantes on religious freedom. Today, the castle is museum of folk art of Brittany. In this area is also located the Museum of Fine Arts with works by Kandinsky, Monet, Chagall & Ingres, as well as a botanical garden.
Minibus rental with driver in Nantes or Nantes Atlantique Airport
8Rental.com provides minibus hire with driver & passenger van rental services with chauffeur in Nantes & Provence-Alpes-Côte d'Azur region. By the way, taking advantage of 8Rental's minibus chauffeured hire in Nantes service would be the most comfortable & convenient way to meet your partners & friends & great option to reach the desired destination.

«8Rental» Company- loyal assistant on passenger van hire with driver in Nantes!
8Rental provides transfers to/from Gare de Nantes and Nantes Atlantique Airport shuttle chauffeured services.
How to get a preliminary cost & make a quick booking: minibus hire in Nantes service.
We will be glad to see everybody as our regular customers! Do not forget following most special offers of our company created for you! Contact us on This email address is being protected from spambots. You need JavaScript enabled to view it. & get an offer today!
Driving licenses, documents & cards
Driving licenses & cards are checked at all drivers while hiring on work in 8Rental company. Chauffeurs pass examinations & are highly trained.
Standard minibus chauffeured hire version
Small group of tourists, who want to rent a minibus with driver in Nantes, for sure can apply for proposals from 8Rental's team.
Business minibus chauffeured hire version
Most people planning their business trips with 8Rental & trust it due to its luxury minibus service hire with driver. Supplier that amazes passengers during every trip, will surprise you & this time.
Some steps until booking
Write desires in 8Rental's quote
Find cool offer
Confirm it through the payment methods