Charter bus hire in Madrid
Are you planning to welcome a large group of tourists from a foreign country to Madrid? Why won't you share the responsibility laid on you with 8Rental? This respectable bus rental in Madrid and the entire of Spain can undertake the provision of comfortable and safe transportation for all your guests.
Organizing a tour in Madrid to build a lifetime memory
Professional approach to every client8Rental is a highly honorable service and cares for every client applying for its services. All client requirements are paid particular attention. We are available all days a week and 24 hours a day. You may request a quote any time convenient for you and rent a bus with a driver in Madrid before your group leaves for this city.
Another important aspect is the extras a service of coach rental with driver in Madrid can offer to you. 8Rental is ready to supply the coach you book with as much fuel as will be necessary for implementing your entire tour successfully. If you would like to, we can install a TV in the coach, while medical insurance for all those who will be traveling in buses is guaranteed.
The premium fleet of coaches in Madrid
Does the group of your foreign friends consist of around two dozen? Or perhaps you are welcoming as many as up to sixty-five tourists? In both cases, you can hire a charter coach in Madrid and provide all of them with comfortable transportation in Madrid. All of the buses included in our fleet have such essential features as CD and DVD players, comfortable seats and armrests, toilets, refrigerators, air conditioning, etc.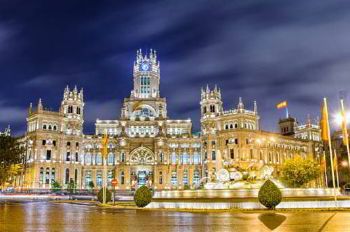 Madrid' outdoors 
Who said that Madrid could offer only a busy urban center? Side by side with rich architecture and modern entertainment facilities, there are fabulous outdoor escapes in this city. Once your foreign guests appear here, you can show them the other side of Madrid which includes romantic boat rides, endless-seeming green spaces, as well as some valuable treasures to enjoy outdoors. Hiring a bus with driver for your several dozen of tourists, tell the chauffeur to drive you to such parks as Retiro Park, Madrid Rio, Parque del Oeste or others.
If your guests from abroad love horses and horse rides, why won't you take them to Hipodromo de la Zarzuela? Besides the fabulous active atmosphere and the glorious horses, they can enjoy tasty tapas and different drinks here. If your group of tourists arrives in Madrid in summer, Terraza Atenas is a must-visit.
This place is off from the tourist route, hence will amaze them with the serenity around and the marvelous view of La Almudena Cathedral. By heading to Templo de Debod, you are guaranteeing your travelers a beautiful experience. Initially constructed in Egypt in the fourth century before Christ, this temple was moved to Madrid only in the eighteenth century. It was a precious gift from Egypt to Spain.
Reliable bus drivers in Madrid
A premium bus with a professional driver behind the wheel is what will become the pledge of safe and comfortable transportation in the city. Our respectable chauffeurs have licenses and significant experience in the driving industry. Each of them knows Madrid's roads full well and won't be mistaken about taking this or that direction.