Car hire with driver in Antwerp
With its vibrant nightlife and picturesque architecture, Antwerp welcomes numerous people every day who get amazed by the city's beauty. It is undoubtedly one of the most remarkable Belgian cities you should observe on your own. For this, 8Rental offers to rent a car with driver in Antwerp and discover all the beauties. With us, your transportation in the city is guaranteed to be safe and comfortable.
Make the best deal in Antwerp by requesting a quote for private driver
Choose a standard-class vehicle and hire a chauffeured driven car in Antwerp if you are short on money yet need safe and convenient driving in a personal automobile. No matter if you are in Antwerp on business or have just decided to spend the weekend on your own in this beautiful city, 8Rental has a suitable car option. The series of green business and first-class cars are eye-catching and offered in perfect condition. They feature all the amenities necessary for enjoying the drive.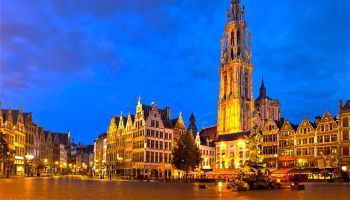 Private drivers you can unconditionally depend on
Booking a car with driver from 8Rental, you are provided with a skillful and licensed driver. The entire staff of chauffeurs here is professional and experienced. They have been fulfilling passenger transportation for years and knew well what clients expect from them. Just the same way, you will be served by a real expert and driven in Antwerp in complete safety and comfort. By the way, all our drivers are locals and know the city roads as well as ABC. They are sure to take the right direction once they hear the address.
Additionally, if you don't speak French or German, there is no need to panic. When hiring a car with driver from 8Rental in Antwerp, mention the language your driver is to master. Besides drivers speaking the official languages of Belgium, we have those speaking other languages.
8Rental offers to welcome its clients at the airport, railway station or any other destination you need.
Antwerp for solo travelers
Antwerp is considered a real gem. Even if you have a weekend to explore Antwerp, be sure these three days will become some of the most memorable ones in your whole life. Walk along the old roads, look at the Renaissance monuments, and enjoy the vibrant nightlife of Antwerp with 8Rental. We shall calmly wait outside any bar or club till you are getting fun, to take you back to your hotel safe and sound.

Visiting Antwerp and not seeing Grote Markt van Antwerpen, Central Station, Town Hall, Carolus Borromeus Church, St Jacobskerk, Peter Paul Rubens Statue, and some other essential sights is unacceptable. These are the architectural heritage of the city.
Antwerp is also famous for its museums. Once you are in this gorgeous city, rent a chauffeur-driven car in Antwerp and tell the chauffeur drive you to Rubenshuis, Museum De Reede, and FOMU Fotomuseum.
8Rental is available 24/7 and is ready to receive your quotes. Apply to us whenever it's convenient for you irrespective of the time and the day. 8Rental wants to inform its clients that we shall provide them with fuel during the entire route no matter how long it's going to be.
Choosing the right car with driver in Antwerp
8Rental is a remarkable private car service in Antwerp. It has an impressive fleet of different cars to suit every client's requirements. So, whether you need a compact private car on a limited budget, or a luxury model to drive in chic and style, 8Rental should become your destination.