Car hire with driver in Brussels
Are you traveling abroad with no companionship and worrying about your safety transportation in a foreign country? 8Rental can become your driver supplier in Brussels. Hire a car with driver in Brussels and get professional transpiration to any destination. We are here to serve our clients and make their traveling in this unassuming yet magnificent German city unforgettable.
Get a Suitable private driver in Brussels
Have you saved money to spend the weekend in the wonderful Belgian city of Brussels? Then you definitely don't need luxury car transportation that may cost additional expenses. Instead, you can choose a standard Skoda Octavia or Ford Mondeo to rent a chauffeured car in Brussels from 8Rental. Both these models, as well as all others in the same class, are equipped with all the necessary amenities including premium safety system, climate control, audio system, etc. Above all this, these cars have impressive exteriors and not worse interiors. All the cars with drivers included in 8Rental's fleet are in perfect condition.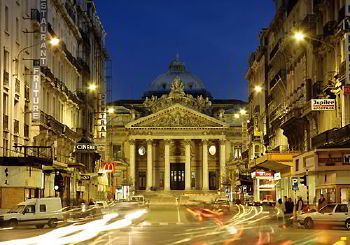 8Rental also suggests hiring business and first-class models from world-leading auto manufacturers. Pick up the model according to your budget, and preferences, as well as the purpose of your arrival in Brussels.
Enjoy your vacation in Brussels having private driver
By booking a driver from this car service in Brussels, you will no longer be obliged to stand in queues for uncomfortable public buses, spend your precious time trying to catch an expensive taxi in rush hour or stop this or passersby to check out your route. Our expert chauffeur is ready to drive you in any direction necessary safely and quickly. Just book a car and let us know your route details, the rest is our responsibility.
Affordable prices for car service in Brussels
8Rental is one of the leading car services with drivers in Brussels. It has gained its reputation not only due to the fantastic fleet of cars and an acknowledged staff of drivers but also due to its affordable pricing system. There are no astronomical prices set even on luxury limousines or first-class lush cars.
We also provide our constant customers with impressive discounts. To become one of them, all that you need is to get a quote, fill it out and send it to us.

Expert driver in Brussels
The greatest pride of 8Rental is its wonderful staff of drivers. These are all professional and licensed drivers who were employed by the service for the high level of their qualification. Besides an impressive resume, our chauffeurs presented recommendations from their previous employers. All of them have significant practice in the field of passenger transportation and know Brussels well. They can take the right road once they hear the address. Besides, 8Rental gives its clients a chance to choose the language their chauffeurs should speak. Hence, if you don't understand German, don't care. You can rent English, Russian Italian, French and a series of other language-speaking chauffeurs.
Additional car services in Brussels
Would you like to be met right at the airport? Or perhaps you are arriving in Brussels by train? In all cases, 8Rental's chauffeurs can be right there to meet you and take you to your hotel safe and sound.
8Rental undertakes the payment of all taxes and fees to provide its clients exceptionally with fantastic driving experience in Brussels.
Brussels - the capital of Belgium
Brussels allures with its amazing architecture, somewhat mysterious narrow streets, fantastic seafood, ultra-modern entertainment facilities and much more. The capital of Belgium annually welcomes millions of tourists from all angles of this huge world. Some arrive here on business, while others are after new impressions and emotions.
Regardless of your purpose of heading to this city, you need to hire a chauffeured car in Brussels from 8Rental and visit such crucial sights as St. Michael and St. Gudula Cathedral, Town Hall, Mont des Arts, Serres Royales De Laeken, The Bourse, and plenty of others.
Get a quote to hire to drive in Brussels at maximal convenience. Make the right choice.