Chauffeur service in Charleroi, Rent a car with driver
Charleroi was once an important city for Belgium's economy. Today it attracts few tourists every year, yet those who are deeply interested in the history of Belgium, can't bypass Charleroi.
Whether your duty or personal interest drew you to Charleroi, you are sure to need a reliable personal transport means. 8Rental is ready to become your companion here. Rent a car with driver in Charleroi to explore the city in complete safety and comfort. Knowing there is a credible driver behind a premium car waiting for you outside the hotel to deliver you whenever needed, is a pledge for an enjoyable traveling in any foreign city. We are the service you can rely on in any season. It's been years since 8Rental started serving in the industry of passenger transportation and has managed to become one of the most prominent car rentals in entire Europe. Applying to us now, you will have the car you book meet you right at the Brussels South Charleroi Airport or any railway station.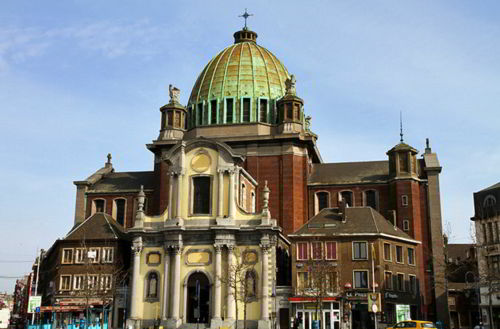 Placing an Order
Hiring a car from 8Rental is so easy and time saving! Just get a quote now and complete it. You will be required to state your route details including the pick up address and destination, as well as the trip details, start date and time. The necessary transport details involve the vehicle type and model, as well as the chauffeur language and additional requirement (if you have nay). After all these points are stated, mention your contact details and make the payment. Your order will proceed instantly!
Affordable yet Safe
8Rental offers a large choice of most diverse automobile models by world-leading brands. Yet, despite their luxurious look, all the cars are rented at quite reasonable prices. Moreover, there are some standard cars offered very affordable. By booking a Skoda Octavia, a Toyota Camry or any other similar model presented, you won't break your budget yet will have the chance to drive in Charleroi comfortably. All the cars in this series are equipped with climate control, premium cabin upholstery, climate control, safety system, etc. Hire the car with driver in Charleroi to understand what it means to be transported in royal comfort!
However, in case you want to indulge yourself with some luxurious means of transport, 8Rental will be happy to offer you BMW 7, Mercedes S class or Audi A8 cars. All these and other lux models feature premium comfort amenities you will be pleased to experience. Our clients can also order some extra luxury features such as a TV, a minibar, leather upholstery and wooden trimming. The selection is yours, enjoy it!

Credible Drivers at Your Disposal
Afraid of unknown drivers? You shouldn't! Working with exceptionally experienced drivers, 8Rental can give you a safety guarantee. We rely on our drivers and their professionalism and encourage you the same. Besides driving license and an immense practice, our chauffeurs feature a great sense of responsibility. Therefore, if you really need a credible, responsible and 100% professional drivers, no need to look further! By hiring a car from 8Rental, you will be provided with a skillful driver!
The Art-Deco Beauties of Charleroi
Charleroi is a pretty little city which primarily was an important city. The art-deco beauties of the city make it quite a lovely destination to spend a couple of days and explore the city. Such destinations as Gare de Charleroi-Sud, Church of St. Christopher, Le Bois du Cazier, Musee de la photographie, Centre commerciale Rive Gauche, La Ruche Theater are fantastic places to start your traveling from. What concerns the popular restaurants of Charleroi, it will be great to have your dinner at Portus Cale, Le Mont-a-Gourmet, Restaurant Au Trou Normand, CHez Dusche. Each of these establishments is a perfect place to enjoy some time on your own and try the delicious local cuisine.
From 8Rental to You
8Rental is the service you can turn to anytime you need! We are available 24/7 and promise to never let down your expectations!
8Rental provides every client with free fuel and insurance. These are the primary points, yet becoming our frequent client, you will constantly get discounts!