8Rental – an ambitious and new minibus rental supplier that offers different hire vehicles with drivers on long & short-term conditions. The company is targeting to organize high-leveled trips to provide customers with excellent service.
Modern minibus fleet in Krakow
Standard minivan chauffeured hire opportunity
Standard minibus with driver is very comfortable & inexpensive offer for tourists. People always gather a small group of people who need a minibus. Hire a standard minivan from 8Rental & feel the benefits provided by the company.
Business or VIP class minibus chauffeured hire opportunity
Business people always visit the city for important meetings, which can occur inside the hired chauffeured vehicle. Luxury atmosphere & tidy driver will leave the best impression on your colleagues or partners. Chauffeurs come on time & drive in the desired direction immediately.
Rent a minibus with a driver in Krakow or hire a chauffeured van
The 8Rental driver can meet you at the Airport or Railway station by chosen request. The chauffeur speaks Russian, English, Dutch & French.
The 8Rental offer contains: 
Sober & well-organized chauffeur
Minibus
Standard or business class vehicle
One price that includes: fuel, taxation, driver, minibus, toll roads & highways
Informational service
Acceptable prices
Easy steps for booking the desired vehicle:
Visit 8Rental.com page & find the quotation form 
Fill out the form with journey details, transport details & personal details.
Send out filled request & receive union price to be paid
Discover Krakow renting minibus with driver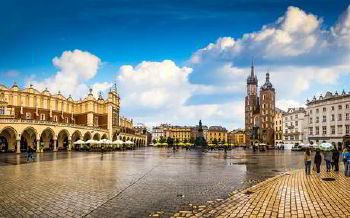 This unique city, created by generations of masters & artists of the Middle Ages, Renaissance, Baroque and Art Nouveau, happily avoided military destruction, invariably fascinates and attracts millions of tourists with ancient streets ensembles, fortresses, original monuments of architecture & art, a variety of cultural events & magical atmosphere of cafes, restaurants, pubs, cellars & jazz clubs. Several hundred valuable architectural monuments have been preserved in the Old City. Krakowski Old Town in 1978 was included by UNESCO in the most valuable list of monuments of cultural world heritage. Krakow's emblem is dachshunds & peacocks. It is why, everywhere you can find wooden, plush, glass, bronze, and painted dachshunds. Even more live dachshunds.
Staff organization & the hiring process
Drivers, chauffeurs & all personnel are examined before hiring for work. Driver's license is a must for chauffeurs, as passenger safety is a priority for 8Rental. All documents should be valid & government issued. Hire minibus with driver & check how professional they are.