Charter bus hire in Belgium
With 8Rental's large fleet of buses in Belgium, you can find the best price for your charter bus. Regardless of your requirements, we have the best solution for your specific group tour. We can suggest luxury coaches for airport transfers, daily bus excursions, multi-day tours in Belgium for leisure and business traveling, large group transportation to various events in the country, etc. Would you like to find out more about our premium-clas services?
Extensive fleet of charter coaches
Our fleet of coaches is available for all traveling needs. We have several options ranging from 29-33 seater Mercedes Atego to huge Man Lions able to transport up to 63 passengers with their luggage. All vehicles are registered legally and inspected regularly to exclude any possibility of a breakdown on the roads. They come equipped with all sorts of comfort per their class, with Business or VIP Class coaches featuring more luxurious interiors and better amenities to enjoy longer tours.
Request a quote for a Bus rental in Belgium, and if you can't figure out which model will better fit your traveling requirements, our booking specialist will gladly consult you.
Affordable bus services for Belgium travelers
8Rental leads a competitive pricing policy to keep its clients coming for more whenever they need to rent a bus in Belgium or any other European country. You won't find a fixed price list on the site since every tour is unique. The cost per order depends on the type of tour requested (priced by the distance to be traveled or time to be spent on the roads), the chosen coach (class and size), and some details in your itinerary.
Note that requesting a quote does not cost anything. You can find out the exact price for your order per your itinerary without being obliged to place an order. Completing the form and getting a quote is completely free.
Wide coverage of tours at your disposal
At 8Rental bus hire in Belgium service, we cover a broad range of tours per a traveler's liking. Airport transfers, one-way tours to exhibition halls, festivals, etc., school excursions, city tours, multi-day tours to Belgian cities and countryside, etc.

Depending on the purpose of your tour, we shall allocate an appropriate coach. For longer tours, we recommend grand coaches equipped with all the comfort amenities necessary for enjoying long drives. For smaller distances, however, you can book Standard Class models, which are decently equipped yet priced more affordably. If you have invited business travelers to Belgium and need to provide the best traveling experience for them, we can provide the best VIP Class coaches.
Exploring Belgium with 8Rental coaches
Belgium has a rich culture and history. There are a ton of different options for families and big traveling groups to enjoy in the country. If you have organized an education tour for your big group of travelers and it includes kids, ensure the itinerary includes a visit to Ghent. This Medieval destination is filled with family-friendly museums, parks, and historical landmarks like the Garvensteedn Castle, the Museum of Fine Arts, St. Bavo's Cathedral, Citadel Park, and many other musт-sees.
The city of Brussels, the capital of Belgium, has a fantastic array of sights not to be missed when in the country. And our chauffeurs will gladly drive the whole group to Grand Palace, allergies Royales, Saint-Hubert, the Atomium, St. Michael and St. Gudula Cathedral, Town Hall, Parc du Cinquantenaire, and others. Entrusting the transportation of a big group to professionals is sensible as you won't lose a minute and get to every destination in time.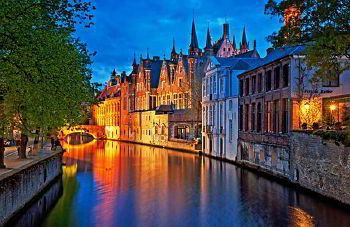 Hurry to rent a bus charter in Belgium with a driver from 8Rental to make your tour most productive.
Best bus rental service in Belgium at your disposal
Are you in search of reserving a private coach with driver in Belgium? If yes, choose 8Rental, as we can offer luxury and economy class coaches and minibuses for your group arriving in Belgium for daily tours, bus excursions, one-way transfers, multi-day tours in the country, and business travel.
8Rental bus rental with driver in Belgium is available for all travelers who intend to enjoy a big group tour in the pearl of Europe - Belgium. Request a quote from the official website to determine how much it will cost. We shall get back quickly and consider all the nuances of the tour to be made. We are available 24/7 and ready to provide a consultation and price estimation of the tour at no cost at all.
Our fleet of buses is available for all your Belgium traveling requirements. But if you can't determine which model to choose, trust our experts' recommendations. We have carried out numerous group tour orders in Belgium and know which buses best fit a client's requirements. Apply now and back yourself with reliable transportation throughout the whole tour in Belgium.