8Rental is a Minibus rental with driver in Belgium which offers you vehicle rentals in various locations within the country and beyond its borders. The company is a leader in the sphere of passenger transportation in Europe and can make arrangements for diverse minibuses across Belgium to get wherever you need, no matter the occasion.
We guarantee that you will receive an efficient, high-quality, friendly, and reliable service from the first contact upon your arrival in Belgium until you reach your destination. Our whole fleet operates under a devoted team of expert and friendly chauffeurs. We suggest choosing from a broad array of minivans to fit all requirements and traveling group sizes.
Make your tour in Belgium a fest
Most travelers comprehend Belgium as very similar to France but with some Dutch influence. And yet, when they arrive in the country, they get fascinated by the local architecture, history, and cuisine. The country attracts visitors with its Bruges canals and castles, Antwerp fashion and crazy carnivals, belfries, and delicious mussel. There are plenty of things to see and enjoy in Belgium, and we shall help you get everything.
Belgium is home to numerous stunning natural places and historical sights. Once here, don't miss the opportunity to visit Grand Place, the Historic Center of Brugge, Antwerpen-Centraal, Les Galeries Royales Saint-Hubert, Atomium Museum, The Markt, Garvensteen, Basilica of the Holy Blood, Graslei and Korenlei, St. Bavo's Cathedral, and plenty of other gorgeous sights.
8Rental service of minibus hire in Belgium is ready to accompany you in the country, take you to every sight you have included in the itinerary, and ensure safety and comfort throughout the whole tour.
What minibus services do we offer in Belgium?
8Rental provides a broad spectrum of services to its travelers in Belgium. Mainly, you can reserve a minibus for airport transfer if you find navigating your way around an airport in Belgium will be confusing and costly for a traveling group. We are ready to take all the fuss out of airport transfers whether you have just arrived in Belgium or are already leaving it. We cover airport transfers nationwide, including Antwerp International Airport, Brussels Airport, Ostend Airport, etc.
Belgium is home to festivals and concerts involving popular events such as Couleur Cafe, Rock Werchter, Graspop Metal Meeting, Extrema Outdoor, and many more. With 8Rental, you will get there on time, all together, with no group member staying behind.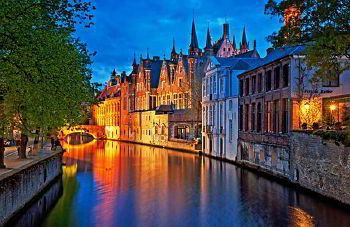 Similarly, we ensure secure one-way transfers around the country, whether you need to deliver your guests to a wedding ceremony, a corporate party, or an exhibition.
Travelers on business in Belgium are welcome to make use of our services. We ensure secure transportation to construction sites, conference halls, or wherever required. We offer Business Class minivans and minibuses equipped with premium comfort features.
Whichever your plans are regarding traveling in Belgium, we shall have them covered. You must provide us with your detailed itinerary, including all the stops to be made. And we scheme an optimal route for the tour to proceed the most efficiently with no traffic jams on the way.
8Rental minibus fleet in Belgium
We have set up an extended fleet with various models to meet all clients' requirements. You can count on top-notch minibuses regardless of your group size or purpose of traveling in Belgium. Smaller groups of four to seven people can choose between Mercedes Viano, Volkswagen Caravelle, Ford Transit, and Mercedes V Class. These models are equipped with all the necessary amenities to provide a comfortable and secure riding experience to small groups touring in Belgium, including air suspension, air conditioning, a CD/USB player, tinted windows, etc.
Larger groups of 8 to 19 passengers can be comfortably seated in a Mercedes Sprinter or Ford Tranzit, both of which are available in Standard and Business Classes. VIP models have such perks as an in-built audio system, executive tinted windows, central heating & air conditioning, aircraft-style luxury seats, facing illuminated tables, etc.
Why choose 8Rental?
When renting a minibus charter in Belgium, it's essential to make sure you are dealing with the best option in the market. 8Rental has all the features to claim as one of Europe's best vehicle rental companies. We ensure a high-security level regardless of the tour length due to hiring only experienced and licensed chauffeurs and inspecting every vehicle thoroughly for any sort of damage before starting the tour.

8Rental covers a wide range of tours across Belgium, from one-way transfers to multiple-day tours across the country. Therefore, discuss the details of your tour and itinerary with our booking specialist before placing an order. For instance, during tours that include night stays outside the departure city, you will have to take care of the driver's meals and accommodation.
8Rental has a staff of skillful and licensed drivers with years of experience driving passengers. So, traveling with 8Rental means enjoying comfortable and secure driving in Belgium.
Don't Hesitate: Rent a Minibus to relish your traveling in Belgium
Hurry to rent a minibus in Belgium from 8Rental at beneficial conditions. We are available 24/7 and offer our services to all traveling groups, whether they are in Belgium on business or for leisure. Order one-way tours, city tours for sightseeing, multi-day tours to explore the best of Belgium, or simply have a premium-class minibus meet your group at the airport to take you to your desired destination. The best minibus rental in Belgium is at your disposal.