Car hire with driver in Toulouse
Do you have a trip to Toulouse? Every trip to Toulouse should be planned and the internal traveling should be entrusted to a professional team like 8Rental in order to ensure that your trip will be perfect. The main focus of 8Rental's company is to make every passenger's transportation comfortable, reliable & unforgettable. Everybody can benefit from luxury car rental with driver in Toulouse. 8Rental is one car hire with a driver supplier and has a well-known reputation. Book Chauffeur Service in Toulouse and explore major city attractions. If you want to take the most from your trip to Toulouse then let 8Rental's car and chauffeur hire service help to get there safely.
Rent a car with driver in Toulouse
If you are the first time in Toulouse we advise you to request and make use of our chauffeur service. We can assure you that time spent in Toulouse with Chauffeur Hire Service from 8Rental won't be forgotten for many years. 8Rental's drivers will convince you in it. We know that all our drivers are professionals with many years of experience. They are natives of Toulouse, which means that they will be able not only to give you the best ride but also to advise you on the best places to visit or to buy souvenirs. They are friendly and always there to help you with whatever you may need.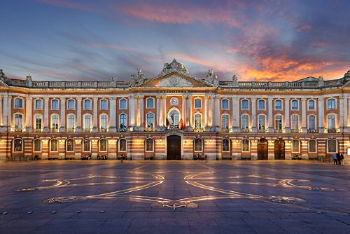 Our car service fleet - your comfort and safety
Our vehicles are available at the best rates and perfectly protected by great deals and this can be an ideal option. Larger family and business groups may wish the extra space and convenience of an SUV. Book one of our private cars and get your holiday off to the perfect start with a top-quality car with driver in Toulouse. Another way of getting excited, especially if you are looking for a large group tour around the city, will be to hire a coach with a driver. You will get a modern luxury coach with all the necessary amenities and you may forget about any troubles. You must also consider that:
fuel
natty chauffeur
well-equipped car service
rest seats
all tolls paid are included in the price
You may also consider some of the great offers that 8rental has for you. There is no need to hire a luxury car if your budget is not so big. Low budget car service in Toulouse also provides with a nice automobile, competent chauffeur & everything for comfortable transportation. Maybe you want to make an impression on your business partners. This is also not so hard to do with luxury car hire with driver form 8rental. It includes all that you need for your great ride: climate control facilities, luxury saloon, plenty of space inside, modern interior design & handsome chauffeur.
Our private diver service - your satisfaction
Toulouse is considered to be the capital of Haute-Garonne. European headquarters of Intel and CNES's Toulouse Space Centre is located in this city. Toulouse is nicknamed as the Pink City because the brick homes turn pink with the sunset. The Haute-Garonne's capital is full of beautiful sites and great architectural monuments, such as Basilica of St. Sernin, Musée des Augustins, Capitole de Toulouse or Pont Neuf and many others. 

Our customer service - your confidence
First-time visitors and not only them will surely want to admire Toulouse and will be looking for a car and driver from Toulouse airport. There are many cars with chauffeurs but not so many are providing customer-oriented service. 8rental is recognized as the best service provider, so if you choose to hire a car with a chauffeur in Toulouse you may be sure your trip will be the most interesting. 8Rental's staff are responsible, friendly and ready to serve 24/7. As soon as the passenger chooses a destination he will be given the price for the ride and 8Rental staff will manage will the rest of the trip's details.
Our duty - your booking decision
Once you made your decision and know exactly what you need then you must book the desired car with chauffeur by three actions:
Fill 8Rental's quote
Receive totally acceptable price
Payout the booked offer.
Do your best because we are here to manage your request. 8rental cares about your trips.