Chauffeur service in Toulouse, Rent a car with driver
Every planned trip should be accompanied by leader team like 8Rental to be sure it will be perfect. Aim of 8Rental's company – make every passenger's transportation comfortable, reliable & unforgettable. Everybody can hire a car with driver in Toulouse by 8Rental supplier.
Hire a car with driver in Toulouse: beautiful Toulouse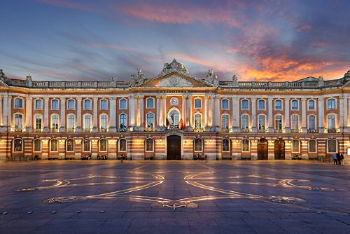 Hire a car with chauffeur in Toulouse to know your trip will be the most interesting. 8Rental's staff are responsible for every driver, vehicle & transport given by them. First time visitors surely will admire Toulouse & further transportation.
No need to pay more
The offer assumes:
fuel
natty chauffeur
well-equipped car
rest seats
all tolls payed
Chauffeur's driving licenses
If client hire a car with driver he has to be sure 8Rental's chauffeurs are licensed, tested & have much experience.
Receive information & price at once
As soon as passenger choses destination point he will be given total price of ride & no worries are required with 8Rental company.
Driver service in Toulouse or rent a car with driver in Toulouse Airport

Toulouse is the capital French department of Haute-Garonne. Toulouse city is situated half way between the Atlantic & Mediterranean sea. The population of Toulouse is approximately 470 thousand inhabitants. University of Toulouse, founded in 1229, has a long-standing tradition of humanities studies and provides education to over 101 thousand students. Toulouse is home to the European headquarters of Intel and CNES's Toulouse Space Centre. Toulouse is twinned with Bristol, Düsseldorf, Bologna, Zaragoza and Bydgoszcz. The city has hot summers and cool winters with moderate rainfall year-round. Toulouse is nicknamed the Pink City because the brick homes turns pink with the sunset. The Haute-Garonne's capital is full of things to do. Book Chauffeur Service in Toulouse & explore major city's attractions, like Basilica of St. Sernin, Cité de l'espace, Musée des Augustins, Capitole de Toulouse or Pont Neuf. Wherever passenger chooses to go, let 8Rental's Chauffeur Hire Service in Toulouse help to get there safely.
Rent a car with driver in Toulouse
If you are first time in Toulouse we advise you to taste local cuisine. The traditional sausage "Saucisse de Toulouse" is a local delicacy and is made of pork, smoky bacon and red wine. Tourists are also advised to visit Muséum de Toulouse, Toulouse Cathedral, Jardin des Plantes & Stadium Municipal. Time spent in Toulouse with Chauffeur Hire Service from 8Rental.com won't be forgotten for many years. 8Rental's drivers will convince you in it.
Save your money with budget car hire with driver
No need to hire luxury car if your budget has not so much funds. Economic car hire with driver also proposes pretty automobile, competent chauffeur & everything for comfort transportation.
Splendid car hire with chauffeur in Toulouse
Make an impression on your business partners is not so hard with luxury car hire with driver. It includes all stuff for your great ride: climate control facilities, luxury saloon, plenty of space inside, modern interior design & handsome chauffeur.
Book desired van with chauffeur by three actions:
Fill 8Rental's quote
Receive totally acceptable price
Pay out the booked offer!