Charter bus hire in Toulouse
What is bus rental in Toulouse? It is easy to move around Toulouse with a big group of travelers. Looking for a bus rental in Toulouse? 8Rental can help you to organize your trip inside & outside any city in trustworthy conditions. 8Rental's finite point – glad passengers & their transportation in modern buses with drivers. Every client has to be sure of 8Rental's team & drivers because they care about every detail of their work.
Economic option Bus hire with driver in Toulouse
Want to save money during the trip? Passengers can afford it by choosing standard bus hire with driver.
Business option charter bus 
Business meetings during the trip?
Rent a luxury coach with driver & enjoy a desirable visit without worries.
Coach hire in Toulouse with driver: Great Toulouse through panoramic windows.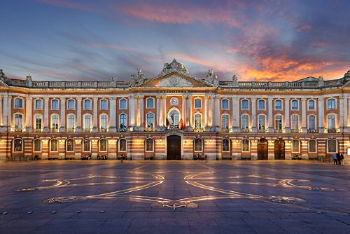 No matter what kind of trip the passenger chooses, 8Rental supplier will ensure the best conditions for everybody's travel. Coach rental with chauffeur in Toulouse – an offer that can make your dreams come true.
Plan to order a bus with a chauffeur for trips? 8Rental provides a wide selection of coaches with driver in Toulouse of various brands & classes. 8Rental will be happy & joyful to see everybody as our loyal customers!
Toulouse - a stylish city in France. In the Middle Ages city grew so quickly, that there were not enough stones for construction. Residents looked for solving this situation & made bricks of clay that during firing acquired a pink tint.
Today Toulouse is conditionally divided into Old & New quarters. The old part is full of many ancient attractions, squares & parks. The new quarter is considered a business center, where everyone can find restaurants, modern cinemas, galleries & different shops.

Rent a bus in Toulouse with driver & begin acquaintance with the city by visiting the Basilica of St. Sernin. Don't miss the Capitole de Toulouse (Capitolium) - a beautiful building of pink bricks. Among other interesting tourist destinations is the Jacobin Church & unusual architectural structure-St. Etienne Cathédrale Toulouse.
Bus charter & transportation services in Toulouse with chauffeur by 8Rental.com

8Rental offers superior coach charters & bus services with chauffeur on favorable terms in Toulouse and the whole of France. 8Rental.com meets all requirements of any level, from ordinary bus hire with driver to providing special conditions for transfer to the most demanding customers.
Chauffeur's licenses & cards
Every chauffeur working at 8Rental is the owner of driving license & required documents.
No supplementary rates
Price includes:
Fuel
Toll & Highways
Standard or Business bus
Tidy driver
Taxes
8Rental's bus with chauffeur includes rich interior design, cozy chairs, panoramic view windows, air-conditioned system & LCD TV set.
Just three steps to book 8Rental's bus:
Write requirements in 8Rental's quote
Accept 8Rental's offer
Make a payment to confirm it!