Charter bus hire in Bordeaux
What is bus rental in Bordeaux? If you want convenience and comfort as you travel in France, bus rental in Bordeaux is the ideal solution for your group, giving you freedom, flexibility, and trustworthy service.
Why is bus rental the best way to travel in Bordeaux?
Bus hire with driver in Bordeaux lets you travel in comfort as a group, wherever and whenever you want to. A charter bus in Bordeaux allows your group to visit the big tourist sites but also gives you access to places that are a little more out of the way if you want to be more adventurous. Bus rental lets your entire group travel together safely and in comfort, whilst keeping to a schedule that suits you.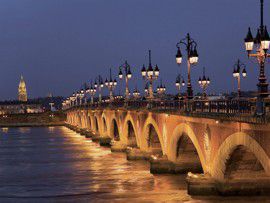 The value of bus rental in Bordeaux
When you rent a bus in Bordeaux you get control over your holiday, allowing you to truly relax. Airport transfers are straightforward and you have access to transport whatever excursions you want to enjoy. The bus and driver are available to you throughout the entire rental period, allowing you to experience your trip in the way that suits you.
The convenience of hiring a bus
Bus rental in Bordeaux offers total convenience. A choice of vehicles can accommodate a variety of groups, with spaces for between 16 and 60 people, plus luggage. The buses have modern amenities to keep everyone comfortable and help you to get around the area with ease. Arranging your bus rental is straightforward and you can then use the service in the way that suits you.
8Rental- famous supplier, who provides hire vehicles with chauffeurs on competitive conditions. Passengers may choose any destination & 8Rental's reliable chauffeurs will drive them quickly. An offer includes:
Careful driver
Fuel
Prepaid Tolls
Taxes
Elegant bus
Book desired coach in several steps:
Write down all the requirements in our quote
Accept 8Rental's proposal
Pay it out & enjoy
Which places you can visit using the coach hire service?
There are no restrictions when you're using the coach hire service. Perhaps you want to visit some of Bordeaux's popular sites like Place de la Bourse or La Cité du Vin, or maybe you want to explore beyond the city limits. You can visit the surrounding countryside or nearby towns, or even organize a transfer to another part of France if you're moving on from Bordeaux.

Bus rental with a driver in Bordeaux or Bordeaux–Mérignac Airport
Bordeaux-green & picturesque city with beautiful squares, streets & monuments. The main pedestrian street of the city-St. Catherine, a place, where people can find cozy restaurants, cafes, bars, where you can sit with a glass of excellent wine & lazily watch the mixed crowd. The fame of Bordeaux wines goes beyond boundaries not only in Bordeaux but also in France, spreading throughout the world. Pride of the local vineyards makes such varieties, like Château Margaux, Pauillac, Saint-Esther, Pessac, Chateau Yquem, Pomerol, Saint Emilion, Graves, Sauternes, named after the surrounding land, estates & castles. Bordeaux region grows five major red grape varieties: Cabernet Franc, Cabernet Sauvignon, Merlot, Malbec, and Petite Verdot. The most common variety-Cabernet. Wine is produced from grapes of varieties in the Bordeaux region, and is considered the reference cabernet. There are only two varieties of white whine-Sauvignon Blanc & Semillon. Hire a bus in Bordeaux and Aquitaine, Limousin, Poitou, and Charentes region and enjoy all travel without worries & hustle!
Bordeaux bus hire with a driver - our fleet
Bus specifications:
Safe transportation
TV set
Pillowed seats
Convenient stand
Budget variant bus hire with driver in Bordeaux
Are you tight on funds? Perfect variant – economic class bus hire with a chauffeur!
It contains many advantages that can compete with luxury class mobile. Just renting it you'll discover modern design, convenient transportation, reliable driver & more else.
Luxury bus hires in Bordeaux with a driver.
If a passenger's trip tends to business meetings then a bus luxury class with a driver should be hired to improve partners. The proposal includes a classic luxury bus, safe luggage transportation, a smart driver & everything customers may need for a reliable trip.
How coach hire service is provided in Bordeaux?
Depending on your requirements, your bus and driver can meet you either at the airport or at your hotel in Bordeaux. You'll have access to a modern vehicle and experienced driver, along with 24/7 operator support, throughout the entire rental period – you're not limited to specific routes or timetables. Both the service and the bus itself are reliable, guaranteeing your safety and enjoyment.