Charter bus hire in Frankfurt
Hiring a bus for a large group of foreigners is a responsible task. Before you hire a bus, you need to take into account such aspects as the number of passengers supposed to drive in the coach, the budget you can afford, as well as the comfort requirements of the passengers. 8Rental has been working in the industry of bus rental for long years and knows well what clients expect from our services. We built the reputation of a trustworthy charter coach service and maintained reciprocally respectful relationships with our clientele.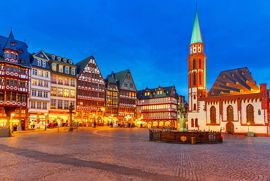 Reliable bus service in Frankfurt - all-inclusive quote
Will your entire group of foreigners arrive in Frankfurt at the same hour? Why don't you request the bus you hired from 8Rental to meet them right at the railway station or the Frankfurt Airport? This way you will save both time and money.
8Rental promises to provide you with fuel inclusive for your entire route no matter how long it will be. Just the same way, you won't be in charge of any extra fees or taxes. We have made it of utmost benefit for you to deal with our German coach supplier. Just reach for the phone and call us now. Or you can place an order on the official website of 8Rental. Get a quote, fill out the necessary points, and expect your bus rental expectations to be exceeded.
The charter coaches you are interested in
Are you welcoming a large group of people in Frankfurt? Mercedes Tourismo can become the perfect variant for you. This model is designed to accommodate up to sixty-five passengers and provide all of them with comfortable transportation in the city. The bus is offered in Standard and VIP models. Both are grandiose and look splendid. However, there are still some comfort amenity differences between the two classes. Booking this bus, you can expect such important comfort specifications as a toilet, a fridge, aircraft-style seats, a small kitchen, air conditioning, an audio system with CD and DVD players, carpeted floors, and so forth.
Nevertheless, if your group is composed of only around twenty people, the above-described coach will be too large. Another more compact yet not less equipped coach is the Mercedes Sprinter. You can choose this model and hire a chauffeured coach in Frankfurt at an affordable price. Here again, the travelers will be provided with a line of essential comfort specifications. If you are tight on budget, you can book the standard variant of the Mercedes Sprinter, while the VIP variant is for those with larger budgets.
Our drivers of the buses - only professionals
We gained the trust of thousands of clients throughout the whole world due to the affordable, transparent pricing system, premium buses, friendly operators, and, of course, professional drivers. Mainly they are responsible for the safety of every passenger driving in the coach you book. These are licensed and experienced chauffeurs who are familiar with Frankfurt's roads. Be sure, and once you hire a chauffeured bus in Frankfurt, you will realize what it means to ride on a bus with a professional chauffeur behind the wheel. At 8Rental you can be sure to find the perfect coach model that you are interested in.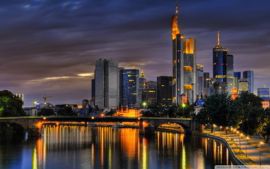 Frankfurt off the beaten path
Is your group of tourists for the second time in Frankfurt? Have they all visited the major sights of the city and now required some new impressions? 8Rental is glad to have valuable advice for you. Right now we shall offer you another side of Frankfurt, the one not so widely visited by tourists. Start your traveling with the Chinese Garden. Here your guests can relax and enjoy the nature around them. Afterward, head to Money Museum of the Deutsche Bundesbank. Here your tourists will explore the way money is produced and learn exciting facts about the world of money. Continue your tour to German Architecture Museum and Deutsches Filmmuseum.
Customer support
Available 24/7 throughout the whole year, 8Rental suggests applying to us whenever convenient for you. As soon as we receive your order, it will proceed. Now, with 8Rental operating in the field, you won't waste a minute of your precious time. You and your foreign guests will be taken in the required direction in a safe and timely manner.