Minibus hire in Frankfurt
Germany is one of the most developed countries not only in Europe but also in the whole world. The most famous cities of the country including Hamburg, Munich, Bremen, Stuttgart, Frankfurt, and others, are annually visited by millions of foreigners. These people come here not only for exploring the rich cultural and historical heritage of the country but also to make profitable business deals. Quite often, an entire team of colleagues arrives in Frankfurt on business.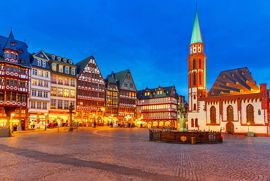 If you are heading to this city with around a dozen colleagues, why don't you hire a minibus with a driver in Frankfurt to make your transportation free from the hustle and bustle? 8Rental minibus rental in Frankfurt opens its doors wide for all travelers who plan to visit any place in Frankfurt and Germany. We have existed in the industry for quite many years to know for sure what clients expect to get from us.
So, by entrusting your driving in Frankfurt to 8Rental, you can make use of the following benefits:
Minibuses in perfect condition
Our first and foremost pride is in our fleet. We have enriched the line of vans offered to customers' choice with premier minibuses all in spotless condition. Hiring any model of minibus or minivan, you are ensured against staying half the way. Book Mercedes Viano or V class once you arrive in Frankfurt with up to eight colleagues.
These models are equipped with all the amenities you may expect from a premium minibus including central heating, air conditioning, reading lights, advanced audio system, carpeting, etc. Mercedes Sprinter, meanwhile, is a perfect variant for larger groups composed of two dozen people. Rent a minibus in Frankfurt, and all of you will drive safely and comfortably. The model provides smooth driving on all roads.
Extras passenger van rental in Frankfurt
We have numerous faithful customers who turn to our services every time they are here in Frankfurt. And learning all the bonuses, we can provide you with; you are sure to become one of them.

So, enjoy this:
Free fuel
All taxes and fees are on us
Any pickup and drop-off address in Frankfurt including airports and railway stations
Frequent discounts
Frankfurt for business travelers and not only
Frankfurt is a significant financial and industrial destination in the entire of Europe. And even though most of the travelers here are on business, they should, by all means, find time to explore this beautiful city. Besides the famous Opera House, the pedestrian shopping street, impressive skyscrapers, multiple parks, the Main River, and some entertainment facilities, there is still much to explore and admire here. 
So, if you are here on business and have very little time to spend on your own, hire a minibus in Frankfurt and tell the driver to take you to the city's most important sights. 8Rental minibus rental service offers a path for group travelers who have neither much time nor much money to spend in the city. The tour includes visiting the Cathedral of St. Bartholomew, The Hauptwache, Old Nicholas Church, and Sachsenhausen. Seeing all these landmarks of Frankfurt, you won't spend a Euro, yet will feel the "breath" of the city.
Drivers to bank on in Frankfurt
What 8Rental minibus supplier can't but feel proud of is its amazing staff of workers. Starting from operators and ending with drivers, all of us are determined to provide excellent services to you. Our chauffeurs are licensed, experienced, and responsible. They are aware of all main roads in the city and will take your group in any direction necessary. Just sit back and relax, make final notes, or discuss your upcoming meetings while being driven to your destination.  By the way, our chauffeurs speak not only German but also a series of other languages. Hence, you are free to choose the driver you can contact in your native language.