Charter bus hire in Hamburg
Finding a perfect bus to meet your budget and your guests' requirements is quite a complicated task. However, this doesn't refer to dealing with 8Rental. Entrusting your tourists' transportation in Hamburg to our reputable bus supplier and hiring a bus in the most favorable conditions, you will quickly find a whole bus tailored to your needs. Depending on specific criteria including the number of passengers supposed to be driving in the bus, as well as their solvency and particular requirements, you can book a Mercedes Sprinter or Mercedes Tourismo.
Both models are available in standard and VIP variants. If Sprinter is designed to accommodate around twenty-four people, Tourismo is significantly larger. It can drive up to sixty-five people in complete comfort and safety.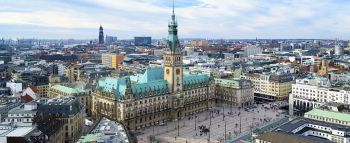 All specifications are responsible for the comfort level can be found inside these buses. Hire a bus in Hamburg and turn the traveling of your tourists into a fairy tale.
The perfect charter bus for you in Hamburg
Hamburg is such a diverse city. It can become a magnificent destination for anyone irrespective of his/her age, profession, interests or nationality. That's why organizing tours for large groups of people are so profitable. And if you plan to welcome foreigners in Hamburg and plan to fill their days in this city with amazing memories, you need to scheme everything in detail. Safe driving in Hamburg is as important as the success of your route. You need to think about providing a high level of safety to all your guests. 8Rental can become your solution here. Being a leading coach rental service for years, we have been providing clients traveling in Hamburg and other European cities with reliable driving experience. So, if you are interested in our services, let us introduce our services in more detail:
Visit romantic Hamburg
Hamburg can be different - passionate and audacious, vibrant and calm, historical and modern. Depending on the traveler and mainly what he pays more attention to, Hamburg can appear as anything you like. Buildings of great historical significance and modern-style establishments exist side by side in Hamburg. Fascinating parks and monuments can attract anyone's attention and make you admire the city.
By choosing Hamburg as the destination for your foreign guests you are making the right selection. The only thing left is selecting the correct sights. Scheme the most romantic tour for your guests with 8Rental. Just rent a chauffeur-driven coach in Hamburg and together with a skillful driver build the most memorable trip for your tourists. Make sure such sights as Park Planten un Blomen, Holthusenbad, Planetarium Hamburg, Chocoversum by Hachez, La Luna restaurant and Hamburgische opera house are must-sees for your romantic tourists.

How to find profitable bus rental for your group in Hamburg
We are available 24/7 to deal with our clients. Hence, once you need to rent a bus with a driver in Hamburg, get a quote and complete it. Be sure; you will be satisfied with what you get. By the way, you won't have to pay for the fuel no matter how long your tour may be.
Drivers you can always depend on
Before you entrust the transportation of your foreign guests to a driver, you need to make sure he is qualified enough for that task. Besides having a respective driving license, the chauffeur should have at least several years of experience in the field of passenger transportation. 8Rental's driver's staff is perfect for this task.
All clients dealing with our bus rental service state how professional their drivers were. They are also well aware of any road in Hamburg and will take the right direction the moment you name the address.