Car hire with driver in Hamburg
The second largest city in Germany, Hamburg welcomes visitors from nearly all countries of this huge world annually. Surely the beauty and charm of the city are enough to attract tourists, yet people head to Hamburg on business very frequently, too. And if you are planning to arrive in Hamburg in the near future, you'd better think about your personal means of transportation beforehand. Be sure, you won't enjoy standing in queues for getting a bus to your next destination. Traveling underground is quick yet not as comfortable as you may expect. 8Rental offers the best solution for your situation - rent a car with driver in Hamburg. Just imagine yourself sitting in the passenger cabin of a luxury class car with a well-trained driver behind the wheel. What else is needed for enjoying driving in a foreign city?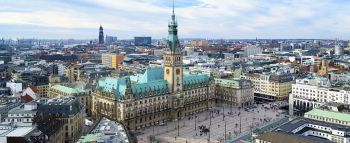 Any private car with driver you wish in Hamburg
Whether you have a round sum of money to book a car with driver or a limited budget, whether you are heading to Hamburg for business purposes or for leisure, there is a perfect private car especially for you in the fleet of the most respectable car service with driver of Hamburg- 8Rental. We don't boast, we just claim the facts. All of our cars are in excellent condition. They are equipped with all the specifications one may expect from a standard, business, and first-class car.
What concerns clients with larger budgets, Audi A6 or A8, Mercedes E and C class cars, or BMW 5/7 are definitely superlative variants. Booking any of these models, you are going to experience some of the most incredible and memorable driving hours abroad. Cruise control, dual-zone climate control, heated fine leather seats, advanced audio system along with a series of other amenities will be at your full disposal. Just hire a chauffeured car in Hamburg now and make your traveling here spectacular.
For clients traveling on limited budgets, we can offer a Skoda Octavia, a Toyota Camry or any other similar model. Despite the low hiring cost, these cars look simply splendid and promise you the utmost convenient driving along Hamburg's roads.
Feel safe with our private drivers
By dealing with exceptionally licensed and experienced drivers, we can guarantee the safety of all our customers. They are all real experts who show personal approach to every client. The sense of responsibility and punctuality are what we can praise them for.
Being well aware of Hamburg's streets, our chauffeurs can easily take the necessary direction and drive you to the required destination in a matter of minutes. Rely on our drivers as we do.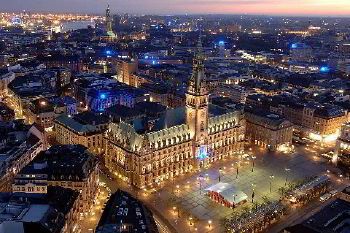 Hamburg's Heart and Soul
Would you like to discover Hamburg's heart and soul? Most tourists spending their vacations here, in Hamburg, state that once they explored the city, they simply fall in love with it once and forever. The dazzling nightlife, the intriguing history, the wonderful blending of iconic and modern architecture and the warmhearted diverse population of Hamburg will keep you dreaming of the city long after leaving it. To reveal the hidden gems and understand the city's real character, rent a chauffeur-driven car in Hamburg from the most dependable Germany car with driver supplier and enjoy your time here.
There are several wonderful destinations in Hamburg that can help you understand its heart and soul. These are Port of Hamburg, Town Hall, International Maritime Museum, Treppenviertel, Warehouse District, Chile House, Reeperbahn, Groninger, and Fish Auction Hall and Market.
Freebies You Will Like
Regardless the length of your route in Hamburg, 8Rental is ready to provide you with the necessary fuel. We build transparent relationships with our clientele and hide no extra fees. Dealing with 8Rental is highly beneficial in all ways.
Being online 24/7, 8Rental's CS operators are ready to accept orders or answer any question that may arise. Feel free to apply to us whenever it's most convenient for you.