Minibus hire in Lyon from 8Rental is the ideal option for those who know the value of money, plan their day down to the smallest details and costs the quality of service. It is also accessible to various organizations that invite business partners and investors to explore the various construction sites, factories, etc. 
Rent a minibus in Lyon with 8Rental.com and make your journey great!
Minibus rental in Lyon or Lyon–Saint-Exupéry Airport
Van hire in Lyon by 8Rental.com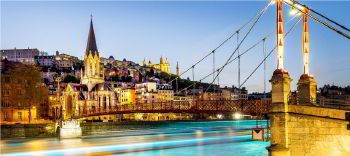 8Rental.com provides minibus hire services in Lyon and Auvergne-Rhône-Alpes region. If you came to Lyon to see as much as possible of its beauties and attractions within a short period and if your trip involves constant moving around and meetings with a lot of people then allow 8Rental's minibus hire in Lyon service be your assistant.
What to see during renting minibus with driver in Lyon? 
Lyon, one of the most important cities in France (the third largest population after Paris), the center of the Rhône-Alpes and the department №69 Rhône. Lyon is located on the banks of two rivers - the Rhone and the Saone, which converge to there south of the city, forming a peninsula called Presqu'île. All these places it is possible to visit by minibus rental in Lyon from 8rental.

Lyon-France's business and industrial center, famous around the world for their textiles and silk, as well as for the development of chemical and pharmaceutical production, computer software and biotechnology. Lyon is also a medical center of Europe, where the International Research Center of cancer diseases is located. Lyon is famous for its cuisine and even considered the culinary capital of France. Lyon is known as the city of students: there are four universities in its territory. Lyon provides a rich cultural life. Hire a minibus in Lyon and visit the most significant city's event the annual Festival of Lights, held December 8th. Lyon is a beautiful picturesque city, vibrant with historical and architectural monuments from Roman times and the Renaissance to the present day. The city is declared a World Heritage Site by UNESCO.
Rent a Minibus at Lyon Airport
We provide transfers to/ from Gare de Lyon-Part-Dieu and Lyon–Saint-Exupéry Airport shuttle services. Quote, and easy&secure booking of minibus hire in Lyon service This email address is being protected from spambots. You need JavaScript enabled to view it. or Quick Quote online form are available for your inquiries every day.