Coach hire in Barcelona, Rent a Bus with driver
Traveling by bus in Barcelona has a number of positive standpoints. So that you make the right choice of the means of transportation in Barcelona for your whole group of travelers, we'll go over each of the pros: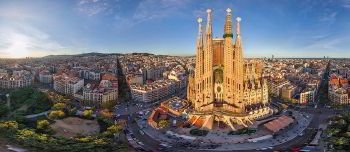 1. Save Money

If you are leaving for Barcelona with a great number of people, the mere flight tickets will cost you a great deal! Why should you spend extra money on multiple taxis to accommodate all of you? Instead, you may rent a coach with a driver in Barcelona and greatly save on the expenses. 8Rental offers vehicles on the most profitable prices in entire Europe! This European vehicle supplier provides fuel and health insurance for all its clients entirely for free! Besides, there are also frequent discounts offered to regular customers.

2. Travel in Safety

A charter bus will also provide you with a higher level of safety. 8Rental chauffeurs are known as careful and professional workers who approach every order with a deep sense of responsibility. Booking a chauffeur driven bus will give you peace of mind that your entire group of travelers will reach your destination in complete safety. 8Rental drivers are "armed" with driving licenses and years of experience that make them the most reliable chauffeurs in entire Barcelona. Once you hire a bus with driver in Barcelona, you and your traveling companions will get assured that 8Rental stands for what it claims to provide!

3. Enjoy Your Comfy Traveling

The next proof hiring a bus and driver from 8Rental is the comfort you will experience throughout the entire tour! Our vehicles are equipped with all sorts of creature comforts including as basic specs such as seat belts and armrests, reading lights and DVD/CD players, so extra ones such as air conditioning, toilets, fridges, coffee machines and many others. A Mercedes Sprinter can be an excellent choice for relatively smaller groups with up to twenty-four passengers, while a huge Mercedes Tourismo suits those who travel with up to sixty-five travelers. All these, as well as all other coach models, are in perfect condition, you won't have to worry about their mechanical state or appearance.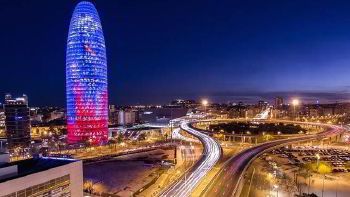 4. Have Much Fun

When you book a charter bus with driver from 8Rental, your enjoyable traveling will start right on the road. Besides the comfort amenities our buses come with, you may tell the chauffeur drive slowly so that to enjoy the marvelous views from bus windows and feel the entire bustle and bustle Barcelona is famous for! Rely on 8Rental car rental service, hire a bus in Barcelona and have much fun!
Barcelona for Free - The Pros of Hiring a Bus from 8Rental
Barcelona is a captivating city! It has so many important and amazing sights, that you simply can't manage to enjoy all of them in one visit. You'd better move here for a while and enrich your inner world by visiting such significant landmarks as Casa Battlo, Basilica of the Sagrada Familia, Font Magica, Palau Guell and many others. If you book a vehicle from 8Rental, just tell the chauffeur to take a direction to one of these breathtakingly beautiful and impressive sights!
Anyway, if your group wants to understand what real Barcelona looks like if you have no money to spend in fashionable clubs, or pay for the entrance to a popular museum, we'll offer you some really great sights that need to money to enjoy! Among these places of interest, we count Las Ramblas, Font Magica, the Gothic Quarter, Park Guell, Plaza de Cataluna, Basilica of the Sagrada Familia, Barceloneta Beach, etc.

8Rental is always online and available round-the-clock. Apply for a quote whenever it's convenient for you! If you want to be met at the airport, just let the cs operator of the service know about it. 8Rental does everything to make its clients enjoy their stay in Barcelona!