Car hire with driver in Barcelona
Where should you start your traveling to manage to see much of Barcelona? First, you need to hire a car with driver in Barcelona not to waste your precious time on public buses or unreliable taxis, and then adhere to this carefully thought plan to explore the city in as little as only one day. Start your day in Barcelona with the Basilica of the Sagrada Familia as this is perhaps the sight every tourist ought to see and admire once in this city. 
What can make your vacation in Barcelona complete if not a luxury car with a driver at your full disposal? 8Rental opens its doors wide for all those who appreciate the importance of comfortable transportation in an unknown city. So, once you appear in the picturesque city with a magnificent blend of Catalan culture, lively nightlife, distinctive architecture, and fabulous sights, hurry to rent a chauffeur driven car in Barcelona to take the maximum from your visit.
Book a car and hire a driver to make sure we have exceptionally skillful drivers on our working staff. You don't even have to tell us the direction to our chauffeurs, all that they need to drive the right road is the name of the place you would like to see. Chauffeurs speaking French, Dutch and English are working for this car rental with driver in Barcelona. Remember this privilege when renting a car with driver.
Advantages we offer - car service in Barcelona
1. Acknowledged private drivers:
8Rental private car hire supplier has a series of advantages it makes sure every client gets. These include experienced drivers who have driving licenses, years of experience and great determination to serve all clients as efficiently as possible. They are professional in all aspects and will make your transportation in the city convenient and pleasant.
2. Premium private car hire models:
Being transported in a stylish comfortable car in Barcelona, you won't have to bear all the inconveniences of public transportation. 8Rental values your time and suggests hiring a Toyota Camry or a BMW 5 with a private driver in Barcelona so that you don't bother about the right direction or the minutes spent on the roads. 8Rental has a large fleet of most stylish and powerful cars all in perfect condition. In accordance with your budget and personal style, select the model right away.
3. Other stuff: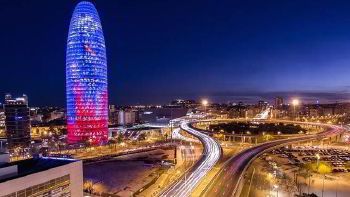 including fuel and all taxes, tolls, friendly and responsible working staff, an affordable pricing system and frequent discounts for regular customers are what 8rental can be proud of, too.
Explore the warm and colorful Barcelona in one day with private driver
Barcelona is truly a rich city and can offer much to any kind of tourist. If you are here to admire the finest architecture, you can't miss La Sagrada Familia by Gaudi or the amazingly-preserved Gothic Quarter. All these masterpieces along with plenty of others are waiting for you in Barcelona. And if you feel like having a picnic in the city, why won't you just head to the riotous La Boqueria market where you can taste the most delicious local fruits, sweets, and delicacies?
However, suppose you have only one day in this gorgeous city, what should you do? Spend time walking in Passeig de Gracia and visit Lad Pedrera. You are sure to have got hungry by the time you admire the last statue in La Pedrera. Hence, head to Lizarran to enjoy some local meals or anything you would like (meals for both vegans and meat-eaters are offered here). Casa Batllo should become your next destination and follow by Casa Lleo I Morera. Another must-see in Barcelona is Plaza de Cataluna and Las Ramblas. To buy a souvenir visit St. Josep La Boqueria. Catedral de Barcelona will fascinate you with its magical beauty.
Have your supper in El Rey de la Gamba 1 and end your visit to marvelous Barcelona by walking along Barceloneta Beach. Surely, twenty-four hours is very little for exploring the real pearl of the Mediterranean, yet by playing the cards right, you will see as much as it is possible and return to your routine life with warm memories.