Charter bus hire in Palermo
Going on a trip to Palermo in large groups of people, it is better to think about the form of reliable means of transportation. The best option, in this case, is a modern, comfortable coach that can quickly transport a large number of people to any place of this irresistible city. Buses accommodate from 9 to 65 passengers.  Renting a bus in Palermo from a reliable company is a somewhat reasonable solution for any group of tourists while traveling through the incredible Palermo city.
Buses to rent - only the best coaches for a long trip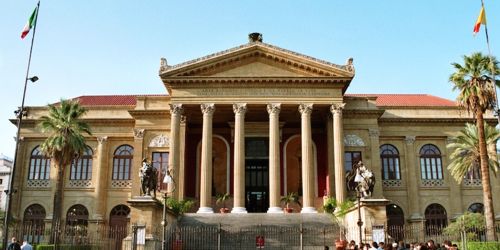 There are several reliable and flexible buses that always work without breakdowns and are a very reliable means of transportation, in the parking of our company. It is safe and convenient to travel by bus hire service in Palermo. Service employees are sincere and serious about their work, and all buses undergo a strict check before the operation. Inside each of the bus salons is very clean and comfortable, during the trip passengers will feel confident, cozy and quite safe.
Our Bus rental services include:
transportation of large groups from/to the Palermo airport and railway station
sightseeing trips
transport of sports teams
excursions for schoolchildren/students
business trips
Palermo bus drivers- travel flexibly and securely with coach rental service

Charter bus service also offers the services of good-quality, highly professional chauffeurs who have extensive experience in the field of passenger transportation in Palermo. They have all the required driving skills, have a driver's license and a medical card. Drivers are punctual enough, attentive and careful, besides they are friendly, understanding and educated, they know several foreign languages. All the clients of the service are satisfied with the offered services and apply to our company repeatedly.
What to see in Palermo having a private bus with driver? 
Sicilia is worth visiting, to feel its unique atmosphere, enjoy its bright sun and absorb all the colors of its nature. Here each Voyager can get a lot of real Italian warmth, home comfort and emotions and this is a real Sicily. One of the most visited cities, located in Sicily, can be rightfully considered Palermo, which is wisely to describe as a real open-air museum. Every building is associated with an exciting event from the past of the city or the region as a whole, and rare, unique sights give this marvelous city an even more beyond-belief feeling. The ancient beauty of Palermo, which has survived many different civilizations, opens immediately as soon as the bus from the airport enters the city. The architectural and style blend of Gothic and Baroque, Norman, Arab, Byzantine and Greek traditions, narrow streets with scruffy and inexorable houses and temples, and luxury in patches - this is the capital of Sicily. The bus rental with a driver is an excellent opportunity to see this marvelous city and thoroughly enjoy its charm.