Car rental with driver in Palermo
Everyone who has ever traveled to an unfamiliar city at least once knows exactly how difficult and uncomfortable it is to travel there without a reliable escort and without a good car. 8rental car service with driver in Palermo helps all tourists overcome these problems and feel comfortable and confident in an unfamiliar city. Having booked a good private car here, tourists get a guarantee of safety, comfort, and convenience while traveling in any direction. Just send us a quote and fill in all requirements and we will start proceeding with your order immediately.Tourists will get a good chance to visit all the city's interesting places and get to know the magnificent Palermo as much as possible by making use of our car rental with driver.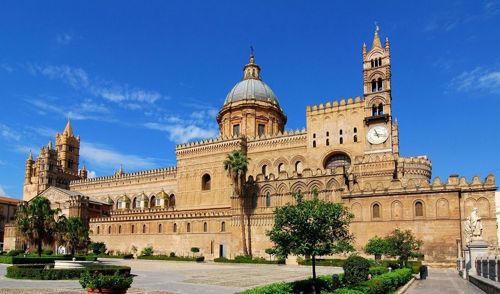 Car service in Palermo - a perfect solution for a comfortable and amazing trip
There are several private car models, which are accessible to rent such as the first class, standard, and business ones. Any tourist can choose a car with driver according to his preferences or according to the purpose of his trip. Each private car is equipped with a host of amenities to make the trip comfortable and enjoyable for all types of customers. The car service is in excellent working condition, they are clean both from the outside and the inside, the design is modern and very attractive.
Private chauffeur - a driver who will be your guide through Palermo
Private drivers working in Palermo have all the qualities to ensure safety, comfort, and convenience for every passenger. Drivers have excellent driving skills and they also have the necessary qualities to communicate with tourists and help with any question regarding travel, as they all master at least one of the international languages. This service provides all the possibilities for an ideal trip through Palermo.
Are you still considering or you have already made up your mind regarding a car rental with a driver?
Great chance to see the whole of Palermo on the rented car with driver
Palermo is full of various attractions. Having absorbed the history of many centuries, the city resembles a museum with countless halls and exhibits. To experience the color of the city, which preserved the fruits of the cultures of different civilizations from the Phoenicians and ancient Romans, it is best to walk along the historic center of the capital of Sicily. Palermo is famous for being one of the best-preserved historical centers in Europe. This is primarily the four quarters: Kalsa, Albergheria, Seralcadio and La Lodge. They are connected with three streets: Via Maqueda, Corso Vittorio Emanuele, and Via Roma. 
The quarter of Kals has the biggest number of churches and monasteries. However, because of the fountain located on Pretoria Square, the place was called the Square of Shame. It is decorated with naked statues, which openly disclose all the anatomical details. The symbol of Seralcadio and the whole of Palermo is the majestic Cathedral of Santa Maria Assunta. Nowadays, royal and imperial sarcophagi are exhibited here and jewels found in the tombs of monarchs are kept in here. The quarter of Albergaria is famous for the remarkable old market of Ballaro and La Lodge is called the culinary district of Palermo with a lot of trattorias, pizzerias, focaccia, and other institutions.