Charter bus hire in Seville
If you are planning to welcome several dozen of foreign travelers in Seville, or you are organizing a city tour for college students, the first thing you need to provide them with, is comfortable transportation. Just for this purpose, 8Rental offers its services. It is one of Spain's reliable bus and driver suppliers. Getting a bit closer to all the advantages this bus rental in Seville can provide you with, you are sure to come later for more.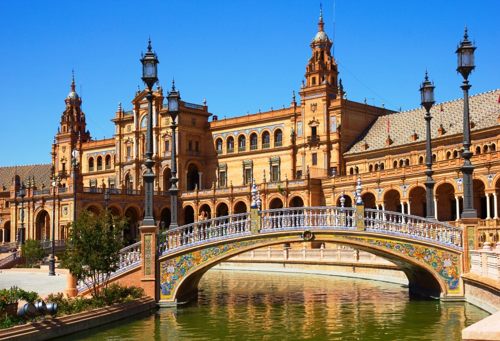 Bus drivers you can easily trust in Seville
Having the charter coach in Seville is entirely sure your passengers are in safe hands. Our skillful licensed drivers who have years of practice in the sphere of passenger transportation are ready to provide you with safe and fast driving in the city. They are responsible and always professional regardless of the situation. You can unconditionally rely on them during the order. Remember we have drivers who speak not only Spanish but also English, Russian, Dutch, or French.
Comfortable buses for all types of budgets
8Rental has enriched its fleet of coaches with huge but very comfortable buses that can accommodate up to sixty-five passengers and travel long tours across Seville's roads. All the coaches are in perfect condition and equipped with premium amenities involving air conditioning, toilets, minibars, refrigerators, TVs, amazingly enjoyable seats with armrests designed in aircraft style, etc.
If you plan to have approximately twenty travelers, you can choose a Mercedes Sprinter and rent the bus in Seville at an affordable price. These compact yet premium buses will provide you with fast and safe driving in the city. The Mercedes Tourismo, meanwhile, is designed for transporting several dozens of passengers in complete comfort. Book this coach right now and have it meet all your guests right at the airport or the railway station.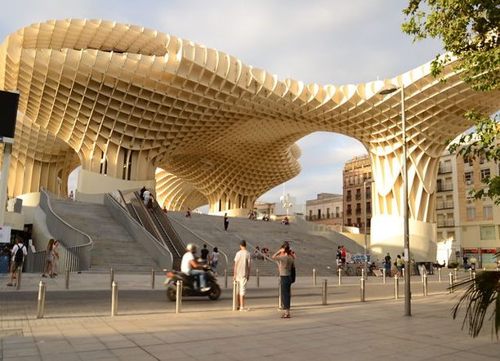 What to see hiring a bus in Seville?
For organizing a remarkable and memorable tour in Seville for a large group of foreign visitors, it's essential to scheme every destination accurately. You need to introduce the city's entire heritage while not forgetting to take them to off the beaten path. The best restaurants where tourists can taste traditional Spanish cuisine at a sensible price should be recommended. Especially for you, 8Rental offers a well-thought-of guide how to explore Seville in three days.
So, the first day should be dedicated to getting acquainted with Seville on foot, visiting such famous tourist sights as Plaza de Espana, Barrio Santa Cruz, Parque de Maria Luisa. Advise your tourists eat at Horno San Buenaventura Alfalfa or Bodega Santa Cruz. On their second day, they should see Plaza del Triunfo, Torre Giralda, the Cathedral, Real Alcazarmuseo del Baile Flamenco.
Vineria San Telmo or Confiteria la Campana should become their dining places. On the third day of your tourists' visit to Seville, tell the bus chauffeur to drive all of you to Mercado de Triana to feel the hustle and bustle of the Spanish market, then head to Museum of Fine Arts and Puente de Isabel II. At Esclava, your guests can taste delicious local tapas. It will be a great ending of a three-day tour in Seville.
Additional Bonuses
Booking a bus with a professional driver you get provided with some extra stuff as well. For instance, regardless your direction, as well as the hours our coach and chauffeur are at your disposal in Seville, the fuel, taxes, driver, and support 24/7 will be included for all the passengers driving in the coaches.