Car rental with driver in Bratislava
Bratislava is surrounded with magnificent nature the mere sight of which takes your breath away. From the Danube River to Small Carpathians, from the aromatic vineyards to mysterious-looking forests. Bratislava has indeed magnificent nature. To see that with your own eyes, head to Bratislava. And don't forget to rent a car with driver in Bratislava before leaving your hometown. Why? There are so many reasons why it's recommended to hire a car with a driver when traveling in Bratislava. And perhaps the main reason is your safety. Being a leading car hire with driver supplier in the entire of Slovakia, 8Rental has now extended its services and included Bratislava in its list of cities served. With 8Rental, your safety and comfort are guaranteed. Hire a car with driver right now as there's absolutely no need to continue your search for a car service abroad.
Booking a car with driver in Bratislava from 8Rental is highly advantageous. Choosing us, you deal with a credible service equipped with an impressive fleet and professional drivers. Get a quote now, it will take you only five minutes to complete it and have the private car you want at your disposal in Bratislava.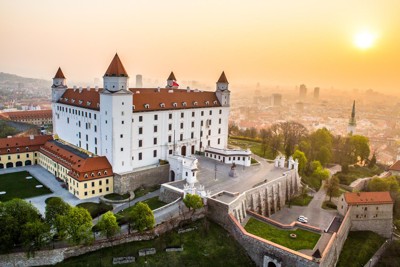 Bratislava is frequently described as a mosaic of illustrious history and it's not without reason. Here one can find a mind-blowing blend of medieval and Gothic sides enriched with the crowning castle reconstructed to Renaissance finery, and baroque palaces commissioned by Hungarian nobles. Can you picture all this in one place?
Any Car service in Bratislava you wish
Whether you are in Bratislava on a business tour and need a first-class car to meet your rank, or you are here just for traveling and can get along with a cheaper model, 8Rental always has a suitable model. Vehicles by all leading makes in excellent condition are included in our fleet. Select any of them either upon leaving for Bratislava or once you are already in the city.
The perfect private driver in Bratislava
Agree, that an annoying driver can make or spoil your tour. With 8Rental's drivers, this doesn't threaten you. Our staff is composed of seasoned and professional chauffeurs who are all dedicated to their work. Each of them has a driving license, impressive experience in the field, knowledge of foreign languages (French, English German, Russian, Spanish), and a high level of professionalism. You will never regret hiring a car with a driver in Bratislava from 8Rental.
Extras You Deserve
8Rental is a car service that cares for its clients. Hence, it offers a number of extras they would love to receive. First, the prices are significantly affordable compared to other services, while the fuel is provided in an inclusive offer. Secondly, 8Rental offers to rent a car with a chauffeur to meet you at the station or airport. And finally, it's so easy to get in touch with 8rental. Make use of the toll-free telephone number, online chat, or email.
Exploring Bratislava Further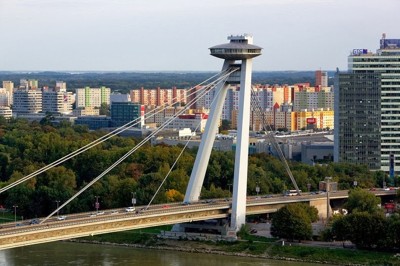 Bratislava has become a great attraction for the youth after the changes that recent years have brought there. Even though there are plenty of communist-era stark-angled blocks in the city, the outlandish statues, fashionable cafes, and boutiques make it look modern and developed. However, it's particularly such a mixture of eras that attracts multiple day-trippers from Vienna. Other tourists (especially young) choose Bratislava as their destination thanks to the uproarious nightlife the city is famed for. The abundance of rowdy beer halls and hidden nightclubs can't but call young people to enjoy themselves and get lost in the rhythms of dance music. However, the march of modernism hasn't yet altered the nature of the city. 
Nevertheless, once in Bratislava, tell your chauffeur to drive you to the most picturesque sights of the city. Those are Bratislava Castle, the old town, Danubiana Meulensteen Art Museum, St Martin's Cathedral, Blue Church, Roland's Fountain, etc. This is far not the whole list of what you can visit and admire in Bratislava. Booking a chauffeured car in Bratislava from 8Rental, you won't need any travel guide since all our drivers know the city better than any tour guide. Just ask them to take you along the city's roads to the most beautiful destinations in the city and enjoy your traveling.