Hiring a minibus with driver in Bratislava has never been easier in Europe. Get a quote and complete it online right here, at 8Rental's official website. Travel in safety and comfort, you deserve that!
Traveling is a fantastic way of increasing one's worldview, enriching geographical knowledge, and simply having some fantastic time! However, because of uncomfortable transport means, everything can feel not what you expect. Just imagine yourself perhaps with your family or group of friends in a foreign city without a reliable personal transport means. What should you do? Can you imagine yourself in search of a taxi or waiting in a bus station with several kids behind you? Would you enjoy your journey under such conditions? You needn't bother your mind to answer since 8Rental is always there to solve such inconveniences. Our minibus rental with driver service has been created with the sole purpose to create comfortable, affordable and safe driving conditions for travelers in Europe. Whichever city you intend to visit, with Bratislava in particular, you can book a chauffeured minibus on beneficial conditions. Our skilled drivers will drive your whole group along Bratislava's roads, picking up the most picturesque destinations so that you return home with joyous impressions and sweet memories.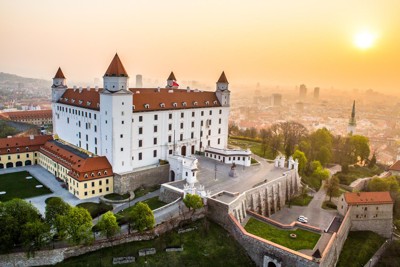 Extended Minibuses at Your Disposal
When filling the fleet of vehicles, 8Rental had safety and comfort in mind. Every single minibus of 8Rental is equipped to the highest standard allowing your ride to the full. The basic amenities include climate control, comfortable seats, built-in audio system, air conditioning, central heating, etc. However, besides the standard class vehicles, 8Rental also offers business class and first-class models. They are even more luxurious and equipped with excellent specifications. No matter how long the minibus is at your disposal or what distances you are going to drive, you will enjoy the roads in safety and style.
Excellent Drivers
What comes next after well-equipped and reliable vehicles when hiring a minibus in a foreign city? That's right - the credibility of the driver. Renting a vehicle at 8Rental car, minibus, and bus supplier, you are provided with skillful, licensed, and experienced chauffeurs who know well what clients expect from their drivers. Our chauffeurs are bilingual hence you won't have any inconvenience in communicating with them. Just before you send the completed quote to rent a microbus, make certain you've stated what language your chauffeur must be good at. The same refers to renting a vehicle on the phone.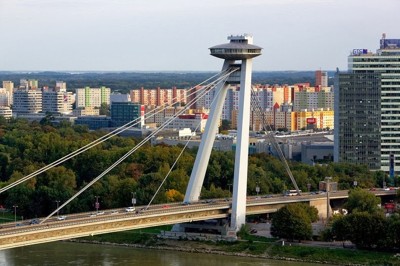 Meet & Greet
Would you like to be met at the airport upon landing in Bratislava? We can organize it easily. Just state you want to make use of the service when booking a minibus with a driver in Bratislava. Our chauffeur will meet you at any destination, take you in any direction and stay at your full disposal as long as you need it. Accordingly, by dealing with 8Rental, you benefit greatly. By the way, during the whole order, the fuel is under 8Rental's responsibility just like any traffic bills.
Bratislava - Slovakia's Gem
Bratislava is a medieval lovely city where you will enjoy strolling along the narrow and winding streets, climbing the top of the hill to see the castle next to the Danube, making long journeys around the city to admire the old churches, castles, and so much more! Every year this city welcomes thousands of tourists which fall in love with it and leave with a firm intention to come back once possible. Located on the southwest of Slovakia and having around half a million population, Bratislava is a real gem worth exploring. Whether you are here with your family and want to visit museums, places of interest, galleries, and other major attractions, or you have come after some marvelous pastime with friends, you will find Bratislava adorable! Bratislava is the vibrant and rich heart of Slovakia.