8Rental Reservations offers car hire with driver in London and Greater London region. Our main goal is to ensure comfortable transportation at the best possible price in London and the UK. Hiring our chauffeur driven cars you get a guarantee of quality and an unforgettable experience.
8Rental.com: our superiority in chauffeur car rental in London
From the first minutes of your stay in London our drivers are ready to give you a warm welcome and drive you on your rental chauffeur car in the indicated direction. They are familiar with London streets and the surrounding area, so you do not have to worry or carry about anything. Make 8Rental your chauffeured vehicle supplier and simply rely on us!
Only All inclusive rates
Total price includes: taxes, toll roads, car, fuel, and chauffeur.
London chauffeur cars: Interior and comfort
We offer pretty decently sized cars. Main advantages: backseat quite spacious, ergonomic seats, climate control system, sizable trunk.
Car rental with driver in London: carriers' documents and pluses
Every 8Rental's carrier has his driving license.
Chauffeurs are local residents with an extensive experience on London's roads.
Major advantages – reliability, punctuality.
Get a quick quote
Whatever direction your London's road takes, 8Rental's car rental with driver in London looks forward to make significant contribution to that.
Get in touch with us today! 8Rental's team will be happy to assist you with a quote for your planned trip in London.
8Rental Reservations – Your journey starts here!
Chauffeured car rental in London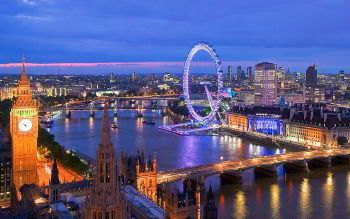 8Rental provides chauffeur service and car rental with driver in London and its surrounding areas. London, founded in 43 AD, is England's and the UK's capital city. London occupies over 620 square miles and located in South East England. Situated on the River Thames in South-East England, London has a population of over 8 million inhabitants.
In 2011 was stated that London has 270 nationalities and 300 different languages.
The University of Cambridge has produced 90 Nobel Prize winners across all categories – more than any other institution. London hosted the Summer Olympics in 2012. FC Arsenal, FC Chelsea and FC Tottenham Hotspur commendably represent London at the championships of England, Europe and the World. City is full of pubs associated with artists, writers, and poets. Wembley Stadium hosted the world's biggest musicians performances, including Queen, Michael Jackson, Rolling Stones.
Standard class car rental with chauffeur
Standard class car hire with driver in London - perfect option!
Standard economy rental car advantages: well-built vehicle in perfect condition, premium look, spacious headroom, premium class interior. These criterions allows our drivers to make a top-quality passenger transportation. Travel on a planned budget and save money with high comfort level and absolutely no worries!

Business, First-class chauffeured car rental in London
Business trip? Hire a first-class car. Highly-skilled local driver will take you from City, Heathrow, Luton, Gatwick, Stansted airports to requested destination.
First class chauffeured car's equipment & interior: High-End Technology, high manufacturing quality, outstanding dynamics, entirely upholstered seats.
Capacity: 3-4 persons.
Get best quotation now then book your car rental with driver London!
Hire a chosen car with driver in London!
Our booking procedure contains three major steps:
Request for a Quick Quote
Receive our initial proposal
Confirm our price proposal with the payment and reserve your car rental with driver