Millions of people travel in Europe every day for different purposes. Some visit German, Italian and other European cities on business, while others want to get pleasure by exploring new cultures and cities. This German city is known for the Hanover Messe new tech trade fair and CeBit computer exposition. Both of these events attract half a million visitors annually. Appearing in Hanover and not visiting its significant places of attraction can be considered a sin! Even if you are on business here, try to spare at least several hours for exploring the city. Among the spectacular must-sees, we can count Sprengel Museum, Monument Gottingen Sieben, Hanover City Hall, Nanas, Luftfahrtmuseum Hanover-Laatzen, etc. Hanover is also rich with marvelous parks. Take a direction to one of these pretty parks as sitting here; you can enjoy the serenity around and admire the picturesque surroundings. Erlebnis Zoo Hanover, Royal Gardens of Herrenhausen, Berggarten and Maschsee are just adorable!
However, this is a city that has much else to offer foreigners. No matter which category of travelers you belong to, 8Rental is glad to welcome you in Hanover. Once you come to Hanover, you will realize the importance of having your means of transportation. The city is quite busy. And if you plan attending business meetings yet want to save some time for admiring the city's beauties, you can't do without a reliable chauffeur and a premium car. Forget about public transport means and high taxes. By booking a car from 8Rental, you will save quite much money. We offer some of the most beneficial conditions in the market. Believe us, and no other European car rental service can provide you with better cars at more affordable costs. By the way, the necessary fuel will be supplied for free. Get a quote now to be transported in Hanover in unusual conditions! Comfortable, stunningly beautiful and powerful cars are at your disposal!
Hiring a Car from 8Rental
To book a car from 8Rental, you need to devote as little as only a couple of minutes. After you get a quote, you will be requested to fill in it. First, insert your journey details involving the start date and time, the tour type (hourly, return, single or specified), the pickup and drop off addresses, and the number of passengers. After this, choose the vehicle type and model. 8Rental wants you to stay entirely satisfied with our services, hence gives you the chance to select the language your driver is to speak. If you have any additional requirements, feel free to state them in the quote. We shall do everything within our limits to turn your driving in Hanover into a beautiful experience. Once all the order details are mentioned, you are to provide your name and contact number. Be sure; your order will proceed immediately! Hire a car with driver in Hanover now to get your personal save transportation means in this German city.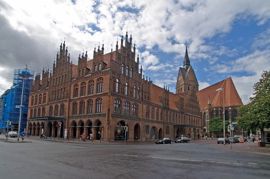 Our Impressive Fleet of Cars
8Rental has a luxurious fleet of most different cars. Depending on what drew you to Hanover, you can rent a standard class, a business class or a first-class vehicle by such outstanding car manufacturers as BMW, Mercedes, Audi, Toyota, etc. All of these vehicles are in excellent conditions. Each of them is equipped with several amenities. Any specification you may consider essential for enjoying your ride in the passenger cabin is provided in these cars. All these excellent tech characteristics along with the gorgeous look of these cars promote in enjoying your route in Hanover. Choose a suitable model and rent a chauffeured car in Hanover to make out of your stay in this city.
Open to communication drivers
We understand that the communication between two people who don't speak the same language is impossible. Therefore, we have employed licensed and skillful chauffeurs speaking not only German but also other languages.