When a traveler is thinking about renting a minibus in Hannover, there is a series of factors that he must consider. These include the reputation of the service, the prices it sets, as well as the experience of drivers. By choosing 8Rental as your guide in Hannover, you are making the right decision. Minibus rental service which is approved and respected all over Germany and Hannover. Operating in the sphere of private passenger vans for many years, we have managed to serve thousands of customers from different European countries.
All of them were greatly satisfied with our services as they always come back to us when they need a van. We believe that now it's your turn to rent a minibus in Hannover and enjoy comfortable driving all around the city. All that you need to do is to get a quote, complete it with relevant data and send it to us. You will have the minibus ordered to meet you right at the Hannover Airport or any railway station in the city.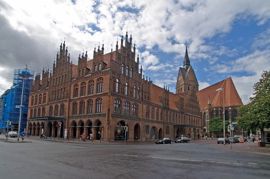 Get the minibus you need
Counting on how many of you will spend the weekend or vacation in Hannover, you can rent a Mercedes Viano, V class, or Mercedes Sprinter. If the first two minibusses are designed for only up to eight passengers, the third one is significantly larger. It will drive up to two dozen people. All of these vehicles are in excellent condition and equipped with a line of specifications for providing the utmost comfortable and safe driving. The standard features include:
air conditioning
air suspension
central heating
seat belts
curtains
tinted windows
premier audio system
However, besides all these amenities, there are also optional ones. You can order a TV, a fridge, or a minibar in the vehicle. Surely this will cost additional charge, yet it is definitely worth it if there are kids or teenagers in your group of travelers. Hire a van with driver in Hannover and enjoy high-end services.
What to see in Hannover?
Hannover is one of the most popular German cities and it welcomes tourists of different ages and interests. Those who are interested in having fun and playing games can definitely find some brilliant destinations here, too. They simply need to hire a minibus with a driver in Hannover and tell them the address. So, if fun and games are what you crave in Hannover, you are welcome to ROOM - Running Out Of Minute.
This is one of the most popular live escape games not only in Hannover but also in entire Germany. Other wonderful destinations include TeamEscape Hannover, ASTOR Grand Cinema, GOP Variete Theater Hannover and others. Anyway, once in Hannover, you can't but visit such important and impressive landmarks as Monument to Ernest Augustus, Monument Gottingen Sieben, Leibnizhaus, Laveshaus, and others.
Rely on our minibus drivers in Hannover
8Rental minibus and driver supplier has a staff of drivers all of whom are real experts. Our expert chauffeurs, who are well aware of all the sights of the city, as well as its roads, will easily take the right direction and drive you to your destination. A mere license is far not enough for 8Rental to employ a driver. Long years of practice in the field, and a high sense of responsibility and reliability are mandatory.
These are those criteria our clients anticipate from us and which we guarantee to provide. Hiring a minibus from 8Rental, you can expect a professional, always sober and good-natured driver, who is ready to have his contribution on your perfect journey in Hannover. By the way, besides German-speaking drivers, we can send you those who master English, French, Italian, Russian and other languages.
We are at your disposal
8Rental is available 24/7 and welcomes all clients who need reliable minibus hire in Hannover. We shall provide you with premium vehicles, and acknowledged drivers, and offer included fuel and insurance. We shall take all the fees and taxes under our responsibility. 
Apply to use beforehand and enjoy a royal driving in Hannover.