Minibus hire in Warsaw, Rent a minibus with driver
There are different passenger's transportation suppliers, but only 8Rental has reached high level popularity. Big vehicle's choice is proposed to demanding customers for satisfying all needs. Hire minibus with driver in Warsaw & receive affordable proposal. Vehicles & chauffeurs organization is checked before every ride. Hire chauffeured driven minivan now & receive desired vehicle in chosen city.
Unique price comprises:
Smart driver
Modern minivan
Taxation
Fuel/ Petrol
Highways & toll roads
Hire minivan with driver in Warsaw or rental chauffeurs services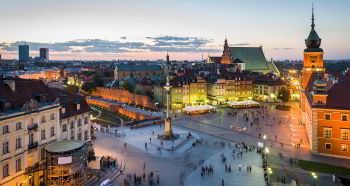 8Renta's chauffeurs will drive customers in requested place & provide necessary transportation conditions.
Warsaw is main Poland's city, its cultural historic & political center. It was born on the banks of Visla river, for this reason it was developed very fast and became Poland's capital in 1596. Many churches, town halls & other religious architecture monuments are situated here, therefore it became a very important religious Europe's center.
Everyone who has been here once can hardly forget architectural monuments, Market Square bustle & royal gardens. In a green city (unofficial Warsaw's name), history & modernity organically intertwined; ancient traditions peacefully coexist with present time reality & technical future progress.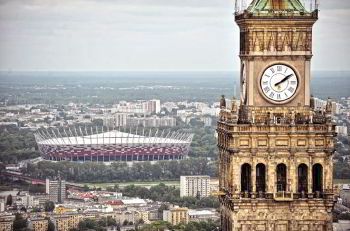 Walking through narrow streets & admiring its opening views, it is hard to believe that not so long ago that place was dominated by devastation & chaos -consequences of sad historical events. During the Second World War, Warsaw was completely destroyed, but many masterpieces of architecture were restored & opened for public visits. A large-scale reconstruction has restored its lost grandeur, & now Warsaw is listed as a UNESCO World Heritage Site.
Hire minibus with driver, visit Warsaw & feel its magic, unforgettable city atmosphere.
Driver license checking
Driver license verification is very important process in 8Rental company. Safety is significant point while transporting passengers in every vehicle. Hire minibus with driver & discover Warsaw's sights, local roads & beautiful places. Chauffeurs are competent in every asked question & know local roads very well. English, French or Dutch driver can be choosen.
Standard minivan chauffeured hire
Standard minivan hire with driver is version which can afford every person as price/quality ratio is very admissible. Spacious minivan allows gathering many friends in relatives inside. Elegant design, soft carpets, shelves, convenient seats & panoramic windows make your trip comfort.
Business minivan chauffeured hire
Many business meetings happen in Warsaw, that's why you should hire luxury chauffeured minivan & organize ride by your taste. Commodious & spacious minibus is especially developed to satisfy business people requirements or simply provide classy transportation conditions.
Book chauffeured hire vehicle
Write needs, desires in quotation from 8Rental's main page
Receive interesting & affordable offer from 8Rental company
Pay & confirm chosen proposal